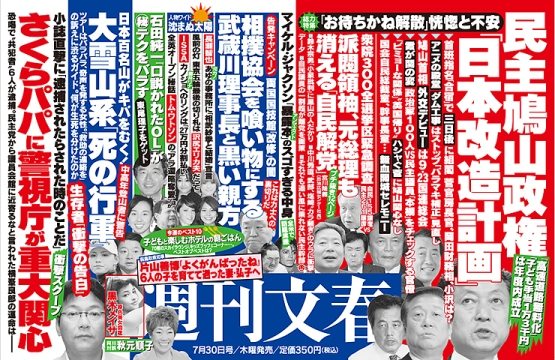 "I get incredibly excited fantasizing of situations where I have sex at the workplace," confesses an anonymous contributor in the June issue of Renai Tengoku, a raunchy vernacular women's magazine. "Having experienced it once, now I've become infatuated. I'm constantly turned on thinking about it."
As related in the weekly "From the Ladies' Magazines" column in Shukan Bunshun (July 30), this gal's lusty tale began late one night two months earlier when she was burning the midnight oil at her office.
"I suddenly felt an irresistible feeling of desire, and slipped my hand inside my underwear and began stimulating myself," she relates. "Just then, I was startled by a noise at the door. It turned out to be my colleague Mr. A, who had joined the company the same time I did.
"'I've…had my eye on you right from the start,' he stammered to me. 'But seeing you doing this is pushing me too far…'
"We embraced and stumbled to the nearby conference room, where he pushed me onto the long table and began disrobing. His thing was bigger than I could have imagined, and without delay, he shoved it deep inside me. The sensation was so exquisite my brain seemed to go numb. As he kept rubbing my G-spot I felt as if I were going to pass out.
"Afterward, we've been getting it on in the office as often as we can."
The writer's byline is punfully rendered as "Ochitsu Lady," a pun on "office lady." Chitsu means vagina.
Source: "Shukujo no zasshi kara," Shukan Bunshun (July 30, page 117)