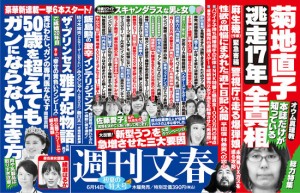 "Unbeknownst to my husband or the neighbors, I like to go after young guys. This time I set my aim on the newspaper delivery boy."
Yes, the ladies who send in secret sexy submissions to Ai no Taiken Special Deluxe (April) are still up to their old tricks (as well as turning new tricks), as Shukan Bunshun (Jun. 14) reveals in its latest issue.
"To get his attention I arose early to take a spirited walk," she continues, "wearing some revealing clothes that would be sure to catch his eye.
"After spotting him making his rounds, I beckoned him to enter the public toilet in the park. He was wary at first, but as soon as he rubbed me down there, within scant seconds I was ready to rock and roll.
"Then I said to him, 'Shall we have a good time together?' while tugging down his trousers and pulling out his penis. I gave it a tender kiss and then thrust out my tongue and slowly gave it a good licking. I enjoyed the musty aroma of his slightly sweaty crotch.
"Next it was my turn, and how sweet it was! To satisfy my lust in such a way was a real turn on. It was a brief moment of erotic ecstasy that I won't be forgetting soon!"
For the writer's pseudonymous byline, Bunshun's punster invokes a classical allusion, ichigo ichie no otsukiai, and turns it on its head. The phrase ichigo ichie was attributed to the famous tea master Sen no Rikyu (1522-1592), and taken to mean one should try to make an occasion perfect. Otsukiai, when written お付き合い normally means to associate with. But the weekly's wordsmith has cannily changed the characters to お突きあい, so as to give the nuance of "a once in a lifetime moment of thrusting together." (W.W.)
Source: "Shukujo no zasshi kara," Shukan Bunshun (June 14, page 107)