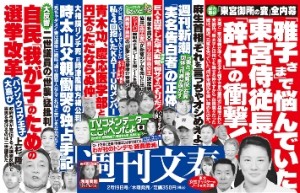 "When I was 15, I had sex for the first time. He was a friend of my mother's, 12 years older than me."
Thus begins an excerpt from the January issue of Ai no Taiken Special Deluxe published by Takeshobo, as featured in Shukan Bunshun (Feb. 9).
Writing under the pseudonym "Tsukiji Ichiba" (a play on the name of Tokyo's main fish market but written with characters that mean "thrusting into the earth or material"), the author continues.
"Since he often came to visit our house, I had got along with him well. As it happened, that day everyone else was out, and being alone together we somehow found ourselves in the mood.
"Being completely inexperienced, I had no idea of what to do, so I left everything to him. And that was how I came to lose my virginity — just lying there motionless like a tuna in the market. I was naïve and completely out of it, but on the other hand felt excited. After he finished, he encouraged me by saying, 'That really felt good.'"
The young woman kept that incident a secret from her mother and continued to have relations with the man for some time afterward.
"But about the time we began to discuss marriage, one day by coincidence I happened to glance in and saw my mother in bed with him, making love. And that was it. Since he was my first love, it came as a shock." (Mieko Shimizu)
Source: "Shukujo no zasshi kara," Shukan Bunshun (Feb. 19, page 108)