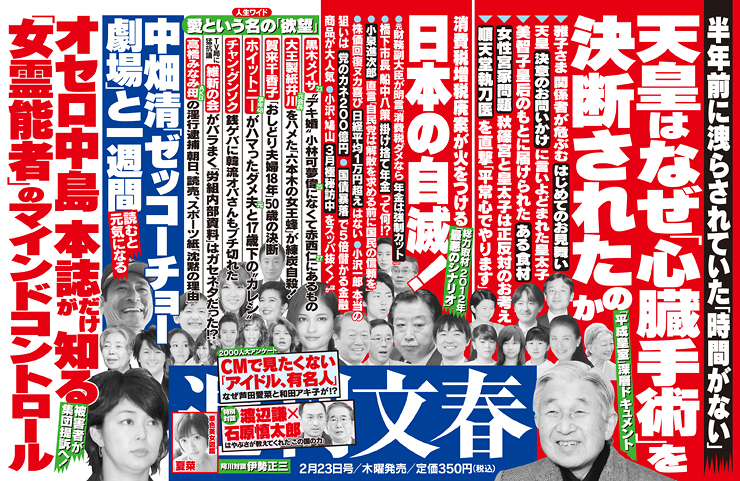 "My boyfriend says I'm of a masochistic bent, and is now in the midst of providing 'instruction.' On our last date he took me to a seedy theater showing B-grade porn films.
"I went in wearing a trench coat with nothing at all underneath, and with a vibrator already inserted in my vagina."
Leave it to the December issue of woman's soft porn magazine Ai no Taiken Special Deluxe to emulate a euphoric etude of estrogen-enhanced eroticism, as introduced in Shukan Bunshun (Feb. 23).
"As the film began to be projected on the screen, I felt all aflame. The two men seated next to me, both strangers, stood up. The one seated on my right took my hand and directed it to his crotch. The one on my left parted my coat, squatted down in front of me and began giving me oral sex. I felt the vibrator about to slip out, and just then someone appeared behind me, reached down toward my buttocks and pulled the vibrator out, and then I felt a hard object touching me down there.
"So there I was in a sleazy theater, simultaneously getting a lively licking, giving head to a guy and getting banged from behind all at the same time. Just at the moment when I felt orgasm was imminent, the film ended and the lights came on, and the three men dashed away. Afterwards my boyfriend hustled me into the toilet and gave me a forceful f**k."
The byline for the article is Bai-yaru M wo mawase! a play on words from the 1954 Alfred Hitchcock thriller "Dial M for Murder." Instead of daiyaru (dial), the first word is tweaked to 倍ヤル bai-yaru, meaning to engage in sex several-fold. Instead of 廻せ, the mawase meaning to dial a telephone, the word here is purposely written out in katakana マワせ! which in this context would suggest "pass (her) around and take turns."
A second byline to an accompanying article on the same page contains another paean to Hitchcock. Shiri-sugita otoko is punned so that instead of meaning "The man who knew too much" (released in 1956), here the byline changes shiri from 知り (know) to 尻 (ass), so as to give the meaning of "The man who got too much ass."
Source: "Shukujo no zasshi kara," Shukan Bunshun (Feb. 23, page 91)