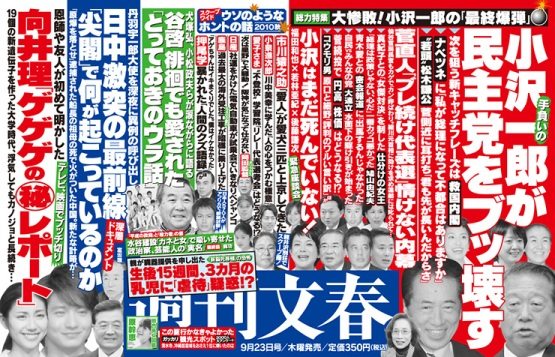 "Both at high school and university, I spent my time immersed in judo, to the degree that my proficiency was included on recommendation letters. Through hard workouts and protein supplements I developed a body that could not be regarded as feminine. More than breasts, my chest was a solid mass of pectorals."
Thus begins a sultry selection from the October issue of women's soft porn magazine Ai no Taiken Special Deluxe, as introduced in Shukan Bunshun (Sep. 23).
"The one thing I regretted," the writer continues, "is that I had little luck finding male companionship. As a last resort I registered with a deai-kei encounter site, through which I met up with my current boyfriend. At our first meeting I saw he was a skinny, nerdy-looking guy with eyeglasses, which made us appear as an odd couple indeed. This may seem flaky, but for some reason he turned out to be just what I craved in a man.
"We went to a hotel and my very first sex experience went like something out of a dream. It felt sooo good when he stroked my mons; when he fingered my clitoris while at the same time sucking my nipples, the sensation was doubled; and even before he stuck in his thing, I had already jumped the gun and come. I felt a momentary stab of pain right at the start, but aside from that I was enraptured in pleasure.
"Now whenever I allow my training (whether judo or sex is not specified but is probably the latter) to slacken, he gets angry at me."
Bunshun's pseudonymous byline is kinkotsu ryuryu, an old aphorism meaning a man (or woman) of muscle. It's been punned here by transposing characters that translate as "musclebound illicit intercourse."
Source: "Shukujo no zasshi kara," Shukan Bunshun (Sep. 23, page 105)