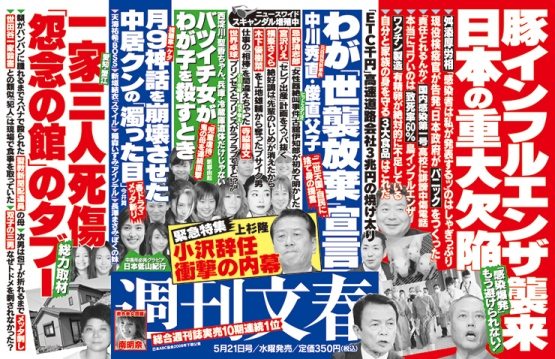 "My husband and I reside on the second floor of an apartment building," a woman who goes by the handle "Tonari wa nani wo suru hito zo" (next door to people who do it) in the May issue of Takeshobo's Ai no Taiken Special Deluxe, as introduced in Shukan Bunshun (May 21).
She continues to pour out her problem. "My brother in law and his new bride took up residence in the unit directly above us. He'd been living there alone at first, but he made friends with a gal, started shacking up with her, and bibbidy-bobbity-boo, the next thing we knew they were married.
"She was a pretty gal and we were both delighted with his choice. But then, practically every evening, we could hear her moaning and whooping, which was really loud, whenever they had sex. I would tolerate this, saying to myself, 'Ah, they're really trying hard to make a baby,' and my hubby would mutter, 'Well, after all they're newlyweds. . .'
"But then thinking about it some more, I supposed that other people in the building could hear her as easily as we could, and even though it had nothing to do with us, I began feeling increasingly embarrassed.
"I really want them to make a baby, but can't she at least tone down the bellowing a couple of notches? I'm perfectly willing to overlook the grating and creaking noises that emanate from their mattress." (M.S.)
Source: "Jukujo no zasshi kara" Shukan Bunshun (May 21, page 104)