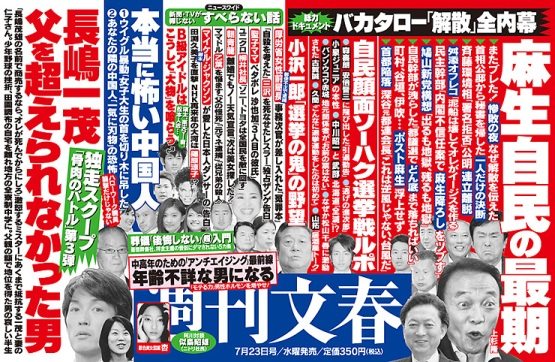 The day is done and the kids are in bed, their soft breathing audible from the neighboring room. The contributor to the July issue of Amour Ura-jijo is relaxing with her husband over a couple of beers, and all of a sudden starts feeling the urge.
But, as Shukan Bunshun (July 23) relates in its weekly selections from ladies' magazines, hubby isn't taking the bait.
"I'm watching TV," he says, feigning a brush-off. "How about you just diddle yourself?"
Well it just so happens that this gentleman is well acquainted with his spouse's masochistic tendencies, and as he appears to be concentrating on the TV, he extends his leg and allows it to creep toward her crotch.
She makes no attempt to discourage him, and soon he is engaging in ashi-man (toe sex). His tarsal techniques are rather untutored, but she nevertheless gets tremendously turned on, and soon she is suppressing gasps of pleasure, since, after all, the kids are sleeping in the next room.
The toe titillation does what it takes, and she goes into spasms on her way to orgasm. By this time the husband's soldier is standing at full attention and he's ready to give her a proper poking. Grunting and moaning, the pair begin to frolic fervidly.
"Afterwards, it was me who went to check on the kids," she writes primly. "They very considerately pretended to be sleeping."
The contributor's byline, "Sake wa fakku (f*ck) no cho," is a not-so-subtle twist on a famous old saying, "Sake wa hyaku yaku no cho, hyaku doku no cho" (Wine is the best of all medicines and worst of all poisons).
Source: "Shukujo no zasshi kara," Shukan Bunshun (July 23, page 111)