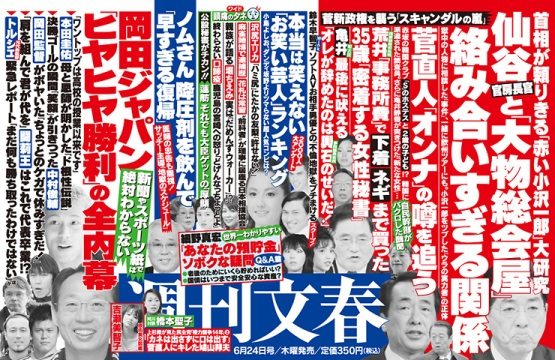 "By complete coincidence, I ran into my old high school boyfriend from 14 years ago!" So begins a seemingly sexy saga from the July issue of women's soft porn magazine Amour, as presented on the pages of Shukan Bunshun (June 24).
"It really brought back memories," she sighs. "He was the first boy I dated, the first one to kiss me after class and the first to do etchi with me. The latter was a bittersweet experience for us kids; for me it hurt, and he came almost instantaneously.
"After our recent re-acquaintance we exchanged emails for about a month, and finally went out together. I hadn't had any sex for the past six years and had gained a lot of weight, so I went on a diet to slim down.
"Anyway, the day we met it seemed natural that we'd wind up to a hotel. 'I can't control myself!' he exclaimed, rarin' to go. But he didn't get me lubricated and when he stuck his thing in, it really hurt. And as usual, he shot off in seconds."
The two were both flustered at their awkward efforts.
"'I guess it just goes to show that neither of us have grown up much,' he blushed. 'Next time, let's do it properly, like adults,' I replied."
The writer's raunchy pseudonym is taken from Banban's mid-'70s hit song "Ichigo Hakusho wo Mo-ichido" (Strawberry statement one more time") — itself taken from the eponymous 1970 cult film about collegiate angst directed by Stuart Hagmann — with the word hakusho (white paper) converted to an Anglo-Saxon expletive that Japanese would pronounce as fuakku-sho, giving the meaning, "Strawberry f**k paper one more time."
Source: "Shukujo no zasshi kara," Shukan Bunshun (June 24, page 101)