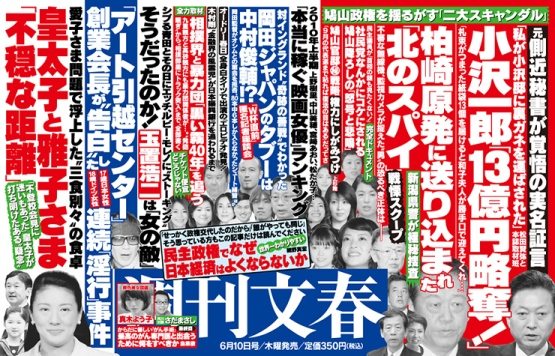 "I've got a regular boyfriend, but before him I had sex with other men. Sometimes the details of who, what, where and when run together, so I have taken to writing things down in a memo book."
So begins an account by a pseudonymous contributor to the June issue of the women's soft porn mag Ai no Taiken Special Deluxe, as introduced in the weekly column in Shukan Bunshun (June 10).
While the writer was in the bath, her boyfriend somehow got his hands on this revealing piece of documentary evidence, and when she returned to the room, she could see he was poring over every sordid page.
"What the hell is this?" he ranted. "'We got it off twice on the seat of a car…' I've never done it with you in a car!"
"He was so mad it looked like he was going to lose it," she wrote. "'How many other men have you had sex with?' he was yelling.
"Infuriated, he demanded to know if I'd ever taken it in the ass, and began fingering my butt. Actually it was the first time for me, and I never knew it felt this way. So from that day, I became hooked on anal sex, and that's the only way we did it. Naturally no other person is allowed to go there.
"In my memo book, on the first day we did it that way, I marked the date with a big ♥," she writes."
Bunshun typically embellishes these stories with a made-up byline. This one rips off the lyrics from the 1986 Teresa Teng song hit "Toki no nagare ni mi wo makase," which ends, "Dakara onegai, soba ni oite ne, ima wa anata shika aisenai" (So please be next to me, since now I will only love you). This touching plea for love has been desecrated to read, "Da-mara onegai, soba ni oite ne, ima wa anata ASS-ka aisenai" (so penis please, put it next to me, now only the ass is loved).
Source: "Shukujo no zasshi kara," Shukan Bunshun (June 10, page 101)