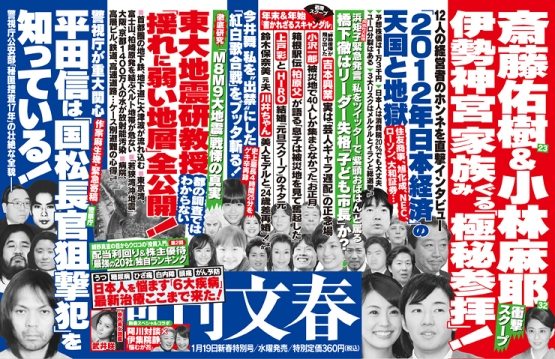 "One of the students I tutor at home was a gorgeous young hunk, like the kind who are contracted with (talent agency) Johnny's Jimusho. One day when I arrived for our session both his parents were out, and I blurted out to him, saying, 'You've been studying really hard these days, and I want to give you a reward.' I unsnapped the fastener of his jeans and yanked them down."
So it's ho-ho and off we go on another tale of imaginary lust, from the October issue of female fantasy mag Ai no Taiken Special Deluxe, as introduced in Shukan Bunshun (Jan. 19).
"I was pleased to see his robust young pecker flop out, and I planted an affectionate kiss on it. Then I took him in my mouth all the way to the root. While I was tonguing him he grasped my head in his hands and let fly with a huge spurt! Since he was young, the jism kept coming and coming, which was not easy to deal with…
"Anyway all this got me steaming hot, so I flung off my clothes and pulled him down on the bed."
"Have you ever done it with a woman before?" I asked him.
"No…I haven't," he replied tenuously. "Sensei, is it all right for you to be my first?"
"Well I'd been waiting and waiting for this moment, and as he slipped into me, I lost track of where I was. It took me only seconds to come.
"What a sweet young guy!" the writer exclaims. "I am really looking forward to boosting his grade scores through all kinds of etchi (sex) with him!"
For the writer's pseudonymous byline, "Ue kara ma*ko," Shukan Bunshun didn't waste any time. The best-selling single "Ue kara Mariko" (Mariko from Above) by the female troupe AKB48 was just released in December 2011. Changing the "ri" in Mariko to an "n," gives the meaning "intercourse from one's superior."
Source: "Shukujo no zasshi kara," Shukan Bunshun (Jan. 19, page 101)