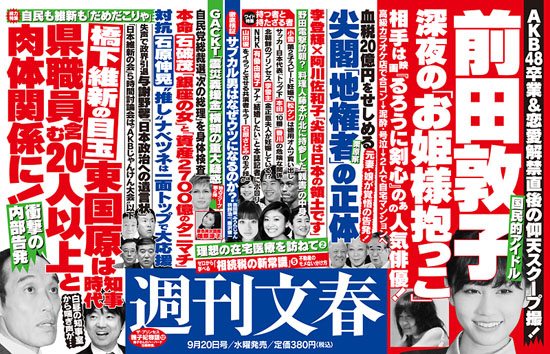 "I just love to masturbate," admits an aspiring anonymous authoress. "I get myself off at least two or three times a day. I've tried doing it with a variety of toys. I've used stick adhesive tubes down there, while rubbing a nipple with an ice cube. I've even smeared it with deodorant cream, which stung a bit, but still got me all excited."
This exciting excerpt was extracted from the August issue of that fanzine for frolicking females, Ai no Taiken Special Deluxe, as introduced in Shukan Bunshun (Sep. 20).
"Another thing that I like is to use a vibrator from a sex shop to stimulate my clitoris until I come," she continues. "More recently I've taken to going into Internet cafes to watch porno videos while I masturbate, which adds to the thrill. I drape a blanket over my thighs and underneath I'll finger myself — and it's really exciting to hear somebody's footsteps just outside in the corridor!
"Last time, right at the moment when I was coming, I released a moan, and the guy in the next room overheard me. When I got up to go to the toilet, a well-built guy who looked like a soccer player followed me and I let him into my private room.
"'You sounded like you were screwing,' he said to me. 'If you're so horny, then do it with me.'
"Then without further ado, he forced himself on me. Now, whenever I recall our encounter I get hot and do myself some more."
For this lewd lady's anonymous byline, Bunshun's prolific punster has come up with "Kuri suki na no, onarudo," a play on words aimed at making fun of the first half of the name of Portuguese soccer player Cristiano Ronaldo dos Santos Aveiro, which here has been tweaked to "Kuri suki na no, onarudo" — which can be taken to mean "Ahhhhhh, my clitoris loves it." Onarudo is created from onaru, a made-up verb that means "to cry out."
Source: "Shukujo no zasshi kara," Shukan Bunshun (Sep. 20, page 101)