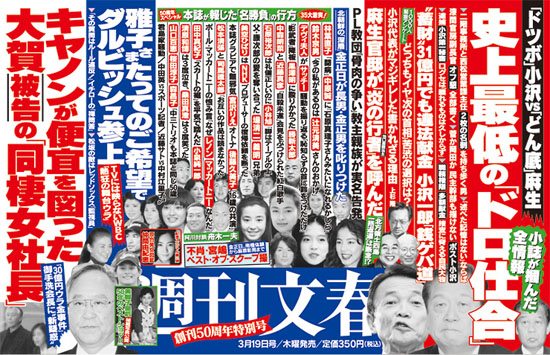 "My father recently remarried. His new spouse had two children from her previous marriage, so I have found myself with an elder and younger brother," writes the anonymous contributor in the March issue of Ai no Taiken Special Deluxe published by Takeshobo.
"Both of them are real hunks," she adds. "Definitely my type."
This excerpt appears in the 50th anniversary special edition of Shukan Bunshun (Mar. 19).
The writer goes on to express her delight in the new members of the family, feeling such warm affection for her new half-siblings, particularly the senior of the two, that she incestuously cuddles up in bed beside as they sleep together.
"He dozed right off. But I was so excited I couldn't sleep a wink!" she exclaims.
One day, she was feeling physical distress and for relief, began to masturbate.
"Unfortunately my younger half-brother caught me in the act. 'I'll keep it a secret from my older brother, but let me watch you do it,' he demanded."
"Thus entrapped, I continued to masturbate, and he began stroking my body. It felt really good and I let him touch me in various places while I really went at it until I climaxed."
"It was an unusually exciting sensation and my kid brother proved to be so skilled at doing 'H,' I got off again and again," she concludes.
Source: "Shukujo no zasshi kara," Shukan Bunshun (Mar. 19, page 114)