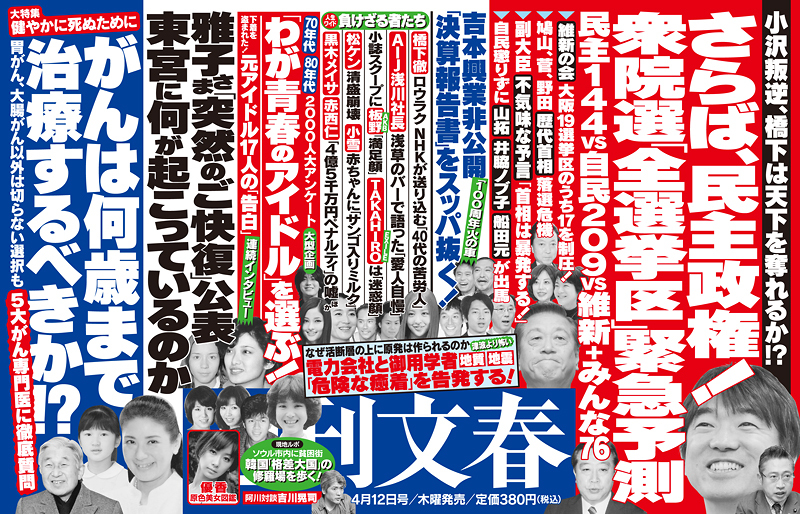 "The guy I'm going with now is such a catch, he's made me the envy of my friends. If he has one flaw at all, I'd say he's hopeless at home chores. So I told him I'd go to his place and tidy things up."
So begins a tasty tale from March issue of women's soft porn magazine Renai Tengoku, as introduced in Shukan Bunshun (Apr. 22).
"During the last days of December I stayed over at his place so I could help with the oosoji (big year-end cleanup)," she continues. "I put on my apron and began tidying up, but he just stood there doing nothing. Then he sneaked up behind me at the kitchen counter, began running his hands under the apron and murmured to me in a husky voice, 'Mmmmm, the nape of your neck is incredibly beautiful…' and stuff like that.
"He began nuzzling my throat and collarbone, and I felt a new sensation. Before I could discourage him, he grabbed the brush he uses to dust off his computer keyboard and began running it over my nipples.
"Finally he pulled off my panties and thrust into me from behind. It was like going to heaven!"
The contributor's pseudonymous byline is given as "Sute-ero! Gijitsu" (The art of throwing it out!), a pun on the title of a popular how-to book for perennially messy people. Sutero! means to discard, but Bunshun's punster changes 捨てろ (sutero) to 捨てエロ (sute-ero), creating a nom de plume with the nuance of "the art of throwing things out (that results in) erotic acts."
Source: "Shukujo no zasshi kara," Shukan Bunshun (Apr. 22, page 103)