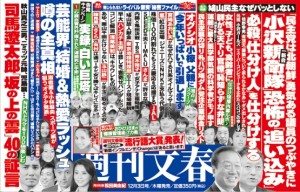 "My hubby reserved a spacious room with twin beds on the top floor of a hotel," writes the anonymous contributor in the December issue of Ai no Taiken Special Deluxe, as introduced in Shukan Bunshun (Dec. 3).
Two beds were needed because the couple was to be joined by Mr. A, a client of her husband's company, and his wife. Having perused the same specialty magazine, the couples learned of their mutual interest in swapping, and the four quickly agreed the bargain would be too good to pass up.
"It was my first time to meet A, and his sex technique was different from my husband's," she writes. "First he used a towel to bind my hands together, and then began thrusting his darkly glistening nikubo (shaft of meat) deep inside me, all the way to my uterus.
"On the other bed, I could see my husband thrusting his hips as he pounded away at A's wife. She was gasping 'Hih! Hih!' which mingled with my own cries and the sounds of flesh slapping against flesh. As I watched them having sex on the next bed, I climaxed like crazy."
The byline for this particular piece is another atrocious pun combining English and Japanese that goes "WE KAN CHANGE" and uses the 姦 kan character, which is written with 女 (onna, woman) in triplicate and means (depending on the context) rape, violation or illicit intercourse. (M.S.)
Source: "Shukujo no zasshi kara," Shukan Bunshun (Dec. 3 page 109)