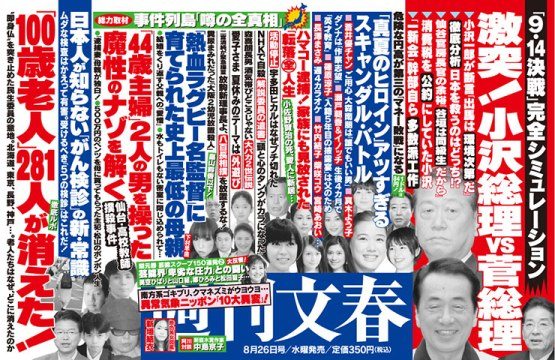 "The other day my boyfriend bought a new car, and we promptly headed for a drive through the mountains to admire the scenery. The skies had been fair, but clouds began forming and we ran into an unexpected rainstorm. Before long it was coming down in buckets."
Thus begins an excerpt by an anonymous contributor to the September issue of women's soft porn magazine Renai Tengoku, as introduced on the pages of Shukan Bunshun (Aug. 26).
"Anyway, rain was falling so hard even with the wipers going full blast we had practically no visibility, so we pulled off the road at the first parking area we came to.
"He grinned at me and said, 'Hey, you wanna do it here?' He yanked the handle so that my seat went horizontal and began kissing and groping me.
"After I gave him lip service he invited me to take the lead, which was unusual for him. I wrapped my fingers around his red, swollen shaft and slowly slipped it inside me.
"With him above me, he began thrusting his hips, and we could easily hear our genitals slipping and sliding together (a sound she onomatopoeically describes as jupo-jupo), even with the rain pounding down on the car.
"Now I'm completely hooked on car sex!" she enthuses.
Bunshun's practiced punster, obviously a great admirer of Gene Kelly musicals, gives the contributor the byline of "I'm chiin-chin in the rain." Chin-chin is vulgar slang for penis, but can be used euphemistically to mean having sex.
Source: "Shukujo no zasshi kara," Shukan Bunshun (Aug. 26, page 105)