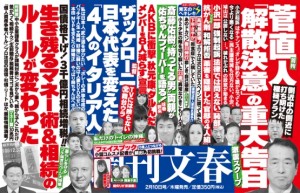 "I enrolled in piano lessons at the culture school by the rail station. The teacher is a guy in his 30s who's a real hunk, with beautiful long fingers. When I watched them gamboling over the black and white keys, I fantasized about how they'd appear touching me down there, and what it would be like to receive a similar strumming, so to speak."
The December issue of women's soft porn mag Ai no Taiken Special Deluxe runs some real doozies, as Shukan Bunshun (Feb. 10) is delighted to demonstrate.
"Well, I worked up my courage and told him exactly what I had in mind. And as it turned out, he was delighted to oblige. That evening, he invited me to his apartment, and after we polished off a few glasses of wine, he went to his grand piano and after playing a few sonatas, his graceful fingers were soon plunking away between my thighs.
"His technique proved every bit as good as I had anticipated, and his dark, throbbing manhood, by contrast, turned out to be rough and ready. This distinct dissimilarity between digits and dong proved delectable, and I enjoyed myself to my heart's content."
The contributor's pseudonymous byline would no doubt send composer Ludwig von Beethoven spinning in his grave. It is punned from his famous piano piece, Bagatelle No. 25 in A minor for solo piano, better known as "Für Elise" — which in Japanese is "Erise no tame ni." By changing one consonant, Bunshun's resident punster comes up with "Erise no hame ni," which means to set up Elise for a f**k. (W.W.)
Source: "Shukujo no zasshi kara," Shukan Bunshun (Feb. 10, page 99)