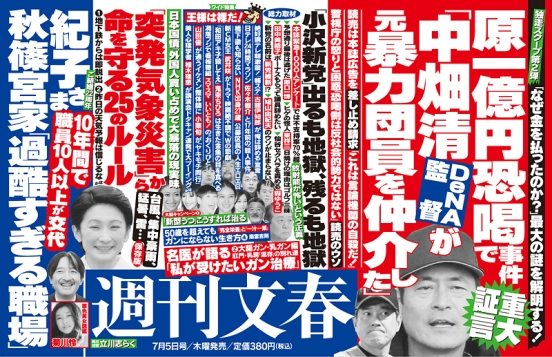 "During the follow-up party after a friend's wedding, the guests played Bingo — and guess what I won? A set of sex toys. After getting teased unmercifully by everyone at the party I finally got back home, and went for a long soak in the tub. There I parted my legs and started giving my clitoris a good working over with the rotary vibrator."
Thus begins a lurid episode from the erotic fantasy fanzine Ai no Taiken Special Deluxe (June) as appearing in Shukan Bunshun (Jul. 5).
"I felt a sense of pleasure that I'd never experienced before," the writer continues. "As I continued to watch myself masturbate, my reflection in the mirror seemed to show the naughty side of my personality.
"So there I was, arching my back in ecstasy, and suddenly, I heard my husband ask, 'Hey, what're you doing in there?' I quickly tried to conceal the vibrator from his view, but we could both hear its motor buzzing away loudly, so there was no hiding what I'd been doing.
"But to my surprise, my hubby said to me, 'Please keep doing it. I get turned on by watching you masturbate.' So with a sense of humiliation on the one hand my body continued smoldering with desire, which I eventually extinguished by bringing myself to a climax, moaning and panting, as he looked on.
Later that evening, while still feeling stimulated from my session in the bath, my husband planted his male root into me repeatedly. I came so many times I thought I'd go crazy."
For the pseudonymous byline this week, Bunshun's notorious punster dredges up the immortal words, Kagami yo, ichiban iyarashii no wa daare? Sound familiar? It's actually spoken by the wicked queen in the Brothers Grimm fairy tale Schneewittchen und die sieben Zwerge (Snow White and the Seven Dwarfs), when she asks, "Mirror, mirror on the wall, who's the fairest of them all?" Only instead of ichiban utsukushii no wa daare? she substitutes, irarashii, so as to change the question (quite appropriately for this particular fairy tale) to "Who's the most lascivious one of all?" (W.W.)
Source: "Shukujo no zasshi kara," Shukan Bunshun (July 5, page 105)