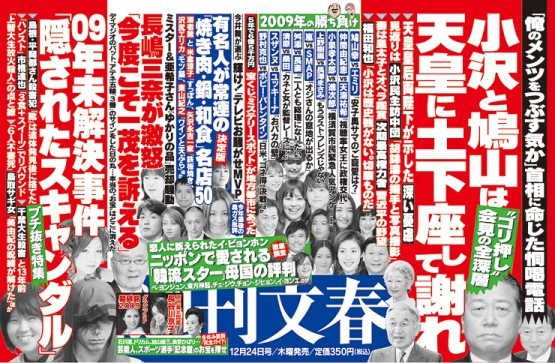 "I'd begun saving up money for one year ahead of time to take a trip to Hokkaido with a close friend aboard a deluxe sleeper train."
Thus begins a soft porn story that originally appeared in the October issue of Ai no Taiken Special Deluxe, as introduced in Shukan Bunshun (Dec. 24).
Alas, the writer's friend was forced to cancel abruptly on the day of their departure. Half out of despair, she decided to make the journey on her own.
"Seated by myself in the dining car, I was feasting on a sumptuous dinner and wine, when this older man in a refined Italian suit approached me, saying, 'Might I invite you to my compartment for a nightcap?'
"Being alone together one thing led to another, and before I knew it we were kissing and started making love. The rhythmic rocking on the rails merged with the beat of our bare bodies, creating the ultimate in erotic moods, even though we hardly exchanged words.
"It was a nocturnal journey that I'll never forget!"
Bunshun's punned byline is "Chindai Tokkyu Kariopea," a play on words intended to emulate the name for JR East Japan's Cassiopeia Sleeper Limited Express that runs between Ueno and Sapporo. But shindai (sleeping berth) is tweaked to chindai, which might be rendered as "penis platform," and Cassiopeia was altered to kariopea, probably meaning — and this is stretching things a bit — "pairing up (pea) with an older person who serves as temporary substitute parent" (kari-oya), as is the occasional practice at wedding ceremonies and so on.
Source: "Shukujo no zasshi kara," Shukan Bunshun (Dec. 24 page 101)