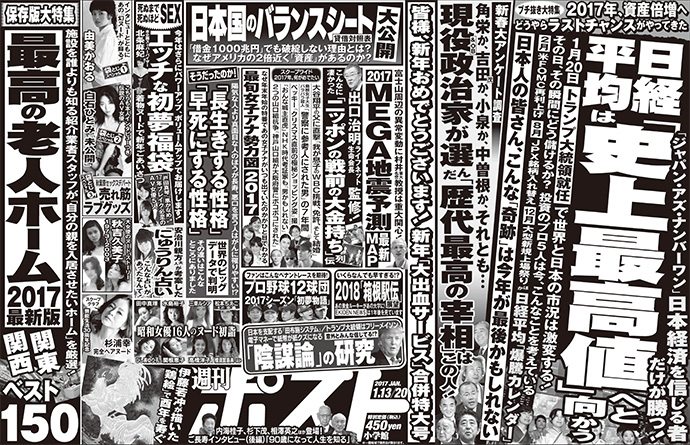 Since the formation of the Kobe Yamaguchi-gumi organized crime group as a rival to the Yamaguchi-gumi in 2015, law enforcement units have been regularly raiding offices of both gangs to gather intelligence in an effort to stem future conflicts.
On December 16 of last year, a surveillance camera captured footage of a group of Osaka police officers allegedly beating a gang member in front of the headquarters of the Yamaken-gumi, the chief affiliate gang of the Kobe Yamaguchi-gumi.
According to Shukan Post (Jan. 13-20), the incident is expected to result in legal repercussions for police.
"It was the fourth anti-organized crime unit of the Osaka Prefectural Police," a Yamaken-gumi member says. "They burst in suddenly. We were only a few minutes late in opening the door."
The video, which has been uploaded to YouTube (see below), begins with officers banging on bulletproof glass with rods from the outside of the building, located in Kobe. Many of them then disappear inside through a door.
Soon after, a mass of men collapse back out onto the street, with much of the pile shifting atop one gang member, who is summarily pummeled by the officers. One officer then climbs atop the man as he lies on the ground and begins choking him, seemingly to the point of unconsciousness.
"The one guy suffered broken ribs, and was taken to a hospital," says the aforementioned gang member.
The search was as a part of an investigation into an assault involving two gangs affiliated with the Yamaguchi-gumi that took place in December of 2015. Thus far, police have made 12 arrests in the case.
"It was overkill on the part of the police," adds the gang member. "We have medical records and surveillance camera footage. After consulting with a lawyer, we are planning to file a complaint alleging assault by a special public servant."
A police officer, prosecutor or judge found guilty in such a case can face up to seven years in prison.
The incident may be a sign that gangs must change how they deal with police, says journalist Hirotoshi Ito.
"The raids and crackdowns by police are intended to weaken the two gangs," he says. "As a result, the yakuza sides may be forced to respond differently than before."
Source: "Futatsu no Yamaguchi-gumi koso," Shukan Post (Jan. 13-20, page 155)
Note: Brief extracts from Japanese vernacular media in the public domain that appear here were translated and summarized under the principle of "fair use." Every effort has been made to ensure accuracy of the translations. However, we are not responsible for the veracity of their contents. The activities of individuals described herein should not be construed as "typical" behavior of Japanese people nor reflect the intention to portray the country in a negative manner. Our sole aim is to provide examples of various types of reading matter enjoyed by Japanese.