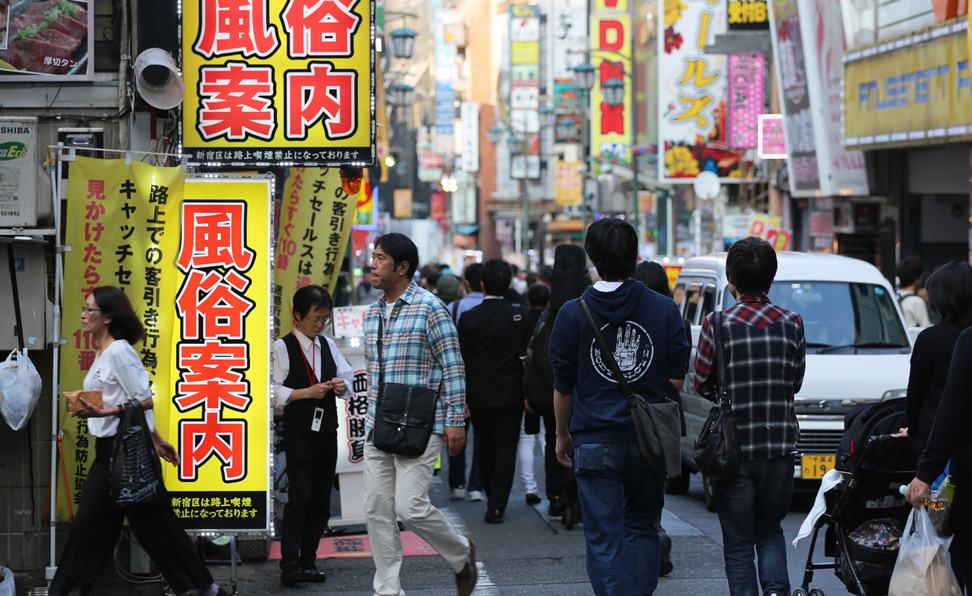 With friends like these…
Tokyo Metropolitan Police on September 1 announced the arrest of Ayumi Sugiyama, a 34-year-old resident of Shizuoka Prefecture, for allegedly forcing a female acquaintance into prostitution — and it was not part-time work, reports Nikkan Gendai (Sept. 4).
Over a nine-month period ending in June, the victim earned 10 million yen in revenue while serving a staggering 1,300 men.
"The woman served men in public parks in Shizuoka City and via quickie encounters in Tokyo's (red-light district of) Kabukicho," an investigator tells the paper. "On average, the number of customers was around five or six per day. However, the figure did reach as high as 10."
The woman met the victim while they both were employed at a fuzoku (commercial sex) parlor in Shizuoka City three years ago, according to the Sankei Shimbun (Sept. 1). Sugiyama was the victim's sempai, or senior, at work. Via the smartphone application Line, the suspect initially claimed that the victim made her "uncomfortable" and demanded a payment of 300,000 yen.
After the victim balked at the demand, Sugiyama insisted she engage in prostitution. According to Gendai, the suspect had basically brainwashed the woman.
"The victim is an obedient type," continues the aforementioned investigator. "At first, the suspect simply threatened to 'expose secrets' about her. But then it escalated to what might be called 'Line hell,' whereby she was bombarded with endless messages. Instructions like 'your work takes priority over sleeping' were incessant."
The matter came to light after the woman was apprehended while trolling for customers in the streets of Kabukicho. Police subsequently checked her smartphone and found all the messages from Sugiyama.
"She seemed to have done exactly as Sugiyama said," the investigator says.
Fuzoku writer Taizo Ebina says that the case is the tip of the iceberg. He says that there are a many timid girls in the industry — many of whom can be manipulated via Line.
"The system indicates whether a person has viewed a particular message (by marking it as 'read')," says Ebina, "So you'll have cases where a read message without a response is used as an easy excuse to threaten a partner. During the attack, praise will also supplied in a sort of carrot-and-stick approach to brainwashing."
Source: "9-kagetsu de 1,300-ri ni baishun kyoyo…Line kijo odoshi to senno no teguchi," Nikkan Gendai (Sept. 4)
Note: Brief extracts from Japanese vernacular media in the public domain that appear here were translated and summarized under the principle of "fair use." Every effort has been made to ensure accuracy of the translations. However, we are not responsible for the veracity of their contents. The activities of individuals described herein should not be construed as "typical" behavior of Japanese people nor reflect the intention to portray the country in a negative manner. Our sole aim is to provide examples of various types of reading matter enjoyed by Japanese.