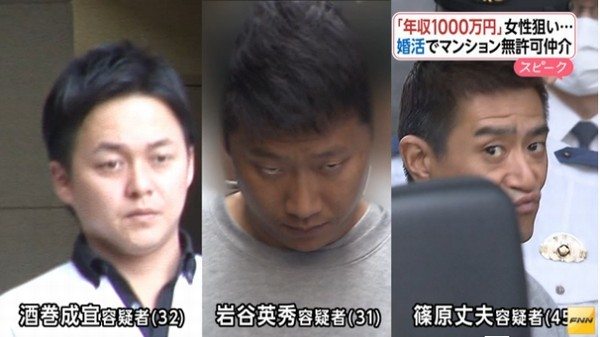 TOKYO (TR) – Three men were arrested on suspicion of using a matchmaking site to meet and con women with salaries of ¥10 million into buying an apartment, police said.
Eishu Iwatani, 31, and two other suspects were arrested on suspicion of violating the Building Lots and Buildings Transaction Business Act on Wednesday for repeatedly going on dates with women they met on matchmaking sites to invest in apartments without a real estate license, Fuji News Network reports (May 18).
Suspect Takeo Shinohara, 45, is suspected of making introductions to women like "The introductions this time are going to be done by [suspect Sakamaki] Shigeki," "This time it's one of my customers," and "I looked into things for you, and this property seems good."
The three suspects were targeting office workers and teachers with annual incomes of around ¥10 million. They checked if victims were able to take out loans by asking to see their income tax withholding slips during dates.
A woman who was approached by the group about buying an apartment said she never showed anyone her income withholding slip before, but "this is marriage we're talking about, so I figured he would bring up substantial topics like our incomes."
An organization representing victims said groups like the three-man team had conned 60 women for a total of over ¥1.5 billion.