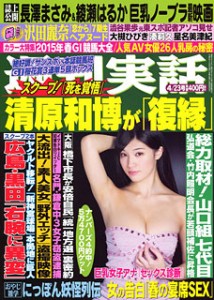 When it comes to sleaze in Osaka, typical pleasures of perversion include SM establishments and "image" clubs in which the hostesses are attired in costumes.
Always looking for a scoop, weekly tabloid Shukan Jitsuwa (April 23) happily informs its mostly male readership about the return of the nearly extinct seku-kyaba genre, which features topless girls.
"There was a time when seku-kyaba joints operated freely in Osaka," says a writer covering the fuzoku (sex-related) trade.
Unlike parlors that only offer intimacy, such as an oppai pub or the recently popular icha-kyaba, a seku-kyaba business (which takes its name from "sexy" and "cabaret") is known for more extreme services, such as inducing the customer to ejaculation.
As a result, Osaka Prefectural Police initiated a crackdown on the clubs and those falling under the 'pink salon' category in 2009.
"In the end, it was complete devastation of the industry," continues the writer.
The current reincarnation of the seku-kyaba is under the moniker "two-shot kyaba," which is in part derived from the phrase meaning an intimate photograph of a couple.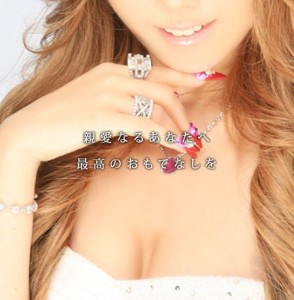 "The business model is identical," says an owner of one such establishment, "and there are a lot of places setting up shop in Osaka nowadays. With the origin of the trade being the ime-kura, traditional costumes, such as the kimono, and nurse uniforms are used."
At Vivid Crew, which is located in Yodogawa Ward, prices begin at 5,000 yen for the first 40 minutes.
The new parlors live up to the reputation of their predecessors by offering extreme services, according to Shukan Jitsuwa.
In keeping up with their legacy, the majority of the places still offer highly erotic services, such as allowing the customer to pleasure the hostess in her genital area, assures the aforementioned fuzoku writer.
"And while he's doing that, he'll be receiving a hand-job — just like the good old days." (K.N.)
Source: "Osawari shihodai Osaka de 'tsushottokyaba' ga dai seikyo," Shukan Jitsuwa (April 23, page 203)
Note: Brief extracts from Japanese vernacular media in the public domain that appear here were translated and summarized under the principle of "fair use." Every effort has been made to ensure accuracy of the translations. However, we are not responsible for the veracity of their contents. The activities of individuals described herein should not be construed as "typical" behavior of Japanese people nor reflect the intention to portray the country in a negative manner. Our sole aim is to provide examples of various types of reading matter enjoyed by Japanese.