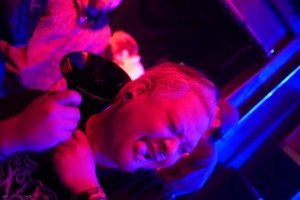 TOKYO (TR) – Walk past the bars and shady touts in the red-light district of Shinjuku's infamous Kabukicho and you'll eventually end up at Shinjuku Marz — a "live house" that has become one of the bastions of the underground hard rock, goth, industrial and fetish scenes. At 11:55 p.m. on November 29, it hosted Grind Chaos 5.
Organized by Ryo Ando, of the globally famous Harajuku-based fashion label, Sexpot Revenge, Grind Chaos was an event featuring three bands, underground DJs and a suspension show, to entice a small, select group of individuals out for a night of relatively mild (by my standards) debauchery.
A niche within a niche
Unlike Ryo's more well known events, The Sexpot Nights, which generally tow the balance between all the different underground subcultures that dress themselves in Sexpot Revenge clothing, Grind chaos was aimed, as the name suggests, primarily at fans of grindcore, which, for my musical tastes, has appealing levels of power, but lacks the form and control to turn that power into something I would chose to listen to.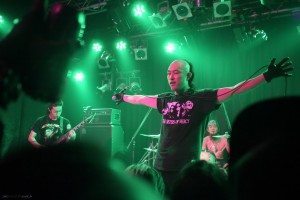 Entrance was 3,000 yen plus another 500 for a drink ticket, but I was on the "free" list — because Ryo's experience in the music world gives him an understanding of how inappropriately creators of media are compensated (props to him). To take the sting off the entry fee for everyone else, they gave out an O.G.D. (or Orgasm Grind Disruption) sampler CD. I was keen on Ryuketsu Blizzard, which was the only non grindcore band there. I liked their image, and based on what people told me I was pretty keen to see them live. I was also amped to hear DJ Coakira as I quite enjoyed his main project, Akiradeath, when I saw them perform at an X-Hard event the big draw for me, however, was DJ Chihiro (from Tokyo Dark Castle) who is one of the best, if not the best, spinners of industrial music in Japan, and I absa-swearword-lutely love his sets, so despite the grindcore theme I had a good deal to look forward to.
Not quite day-play radio material
The evening opened up with Sarugutuwa, and, off the bat, I knew they were grindcore. I really did try to get into it when I was younger but the reason it is called grindcore and not grind-metal, is like all the other rock genres with the word "core" in them they tend to be more about noise, image and the message, than actual well-made, epic music. That, however, is entirely my subjective opinion and they were a clear hit with the crowd which means they were probably pretty good. If nothing else, they were better than the abomination that is Babymetal.
Changing things up a bit after the band was DJ Yukio from Bar P.S.Y. — the best rock bar in Tokyo — who played a variety of metal tracks to which a rather cute young birthday girl was tied up by a dominatrix type and then covered in whipped cream by two half-naked lads and had it partially licked off two fully naked ladies (save for tape over their important bits and the calligraphy painted on their bodies), before a cake was trotted out for her. Sure the ropework wasn't of the calibre one might expect at a Tokyo Decadance party but as long as the bound birthday belle had a happy one it's all that really matters.
Disrupted orgasms and meat hooks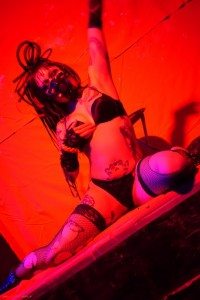 O.G.D. was up next and I would be lying if I told you that I could tell them apart from the first band musically. Their drummer, however, was brutal, and I actually really appreciated the subtle beats and pace changes he slipped in under the blast beats. Visually, their vocalist had a more impressive stage presence and it was good that he did, because while they were playing, volunteers were being hoisted above the crowd via ropes and hooks attached to their skin.
I would have preferred the suspension to have its own dedicated time slot because the beautiful artwork of turning people into meat-puppets gives off a completely different energy compared to the brutal rage and power that is grindcore. When the hooking was done and the spectators dissipated, more of the band's fans squeezed in and for their last few songs, and they picked up the pace.
In case blast beats were not fast enough
Spinning the decks next was DJ Coakira of Akiradeath. It was the electronic music version of grindcore, which I like quite a bit more than the instrumental kind but as I was getting into the sound. The next performer, Mari, got on the little stage, distracted everyone and killed the dance floor. It wasn't a bad distraction though.
Wearing underwear over her underwear and a pretty sick looking mask showing only her demonic contact-lensed eyes as a facial focus point, she was a curvaceous succubus who's strutting commanded everyone's attention. Slowly removing layers until she was left in nothing but taped Xs… at least on her top half. The performance was slow and sultry in a way that would appeal to that particular crowd, but once again I feel like it would have been more at home to a backing track like Blutengel's "Bloody Pleasures" rather than the 170+bpm sonic storm that was Coakira's set. She ended her performance in a way that did suit the music though, by first using a staple gun to staple flyers to the wall and then to her own body which was an intriguing twist and something even I hadn't seen in the flesh (excuse the pun) before.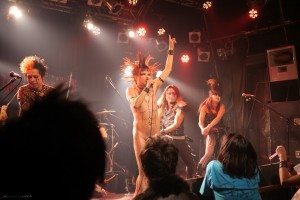 A blizzard of nudity
Ryuketsu Blizzard (Bloodshed Blizzard… how epic a band name is that?!) was the headlining act and with their name, image and stories I'd heard, I was expecting a hybrid Angura-kei grindcore band with possibly a thrash edge to it. Being a huge fan of Angura Kei I was disappointed to find that only their look and to some extent, their lyrics fit the bill. Their sound was more old school punk/'80s J-metal which, while not bad at all, wasn't quite a blizzard of bloodshed.
They were pretty good though, and as with many bands I see at these underground events I'm saddened that they don't have a much larger following. Their look just doesn't meld well with the plastic, pretty-boy obsessed visual-kei fangirls, and their sound is too real for the auto-tuned vocaloid-like chimpanzee-dancing, dog mask wearing, techno "hardcore" fans, who are the only real money market in Japanese rock music.
Their finale probably wouldn't have gone down too well anywhere other than one of these events though. The band cleared the floor, covered it with water and ramen, stood with their legs open so their vocalist, stripped naked, could slide across the floor between them. They then sang one more funny tune, the vocalist still commando, before making their exit.
And straight on until morning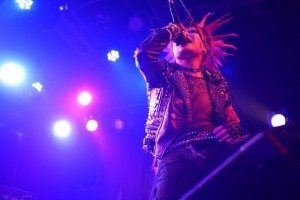 The early morning was tied up by the remaining DJs with Mochizuki Masaru from Foxpill Cult playing some well known hard rock, Grind Chaos' own Ito [email protected] playing her signature anime/new J-rock set followed by the real headliner of that night, for me anyway, DJ Chihiro.
His set was, as always, a masterwork of hard and heavy industrial. Pounding out an evil, methodical pace that re-ignited the thrill of every single industrial set I've ever heard (and I have heard quite a few of those, not to mention, spun a few of my own back in the day) which finally got my blood pumping enough to put down the camera and just dance. Sadly, being the 4 a.m. set, he was done all too soon and just as I was amped to keep going, the party came to an end.
I had fun. I always do at parties like this. They are a mixture of new and exciting explorations into the Japanese version of the clubbing world I have always enjoyed the most, and a nostalgic homage to all those epic parties past. My personal tastes tend more toward Tokyo Dark Castle, Tokyo Decadance and the Sexpot Nights, but I enjoyed myself It was a nice break from the vacant-eyed and vacant-brained existence that the mainstream fashion and music industries, and their advertising machines, violate my senses with everyday. All in all, a proper night out.
Note: Nayalan Moodley is on Twitter at @DarcNoodles. His Web site is darc.jp.