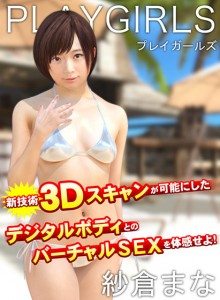 For most men, the ability to engage in sex with an adult video actress remains but a dream.
In a special section dedicated to pleasurable adult activities performed solo, however, Spa! (Dec. 2) says that erotic software maker Illusion is bringing that fantasy closer to reality.
Launched on November 14, the game series Playgirls allows users equipped with an Oculus Rift headset to have virtual intercourse with a 3D rendering of a popular AV starlet, one of whom is Mana Sakura.
In making the product, the company photographed Sakura in a number of stages of undress using a 3D scanner to replicate each of her curves in digital form.
"We reproduced her skin's texture right down to the moles," Naoyuki Otsuru, a producer at the company, tells the magazine.
Naturally, the game is customizable: Users can instruct Sakura to erotically pose in 17 ways and in 51 scenes (such as at the beach or poolside) across a 180-degree panorama inside the headset, which is likely to be available for consumers in. A number of costume changes for the actress are available (including bikinis), with below-the-belt nudity — obscured by a mosaic — a crucial possibility.
Another version of Playgirls, which sells for 4,800 yen, features actress Yui Hatano. The company expects to release more editions starring other actresses in the future.
"Lighting, facial expressions and angles can be modified — you are the director of the scene," continues Otsuru, "and saved videos can be shared on the Web."
Source: "Otona no kairaku onanii shinka-ron," Spa! (Dec. 2, page 55)
Note: Brief extracts from Japanese vernacular media in the public domain that appear here were translated and summarized under the principle of "fair use." Every effort has been made to ensure accuracy of the translations. However, we are not responsible for the veracity of their contents. The activities of individuals described herein should not be construed as "typical" behavior of Japanese people nor reflect the intention to portray the country in a negative manner. Our sole aim is to provide examples of various types of reading matter enjoyed by Japanese.