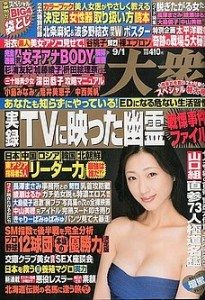 In recent months, Japan's vernacular media has reported on the surge in arrests for streaming uncensored pornographic films via Internet sites located overseas.
Likewise, reports Shukan Taishu (Sept. 1) — the digital era is causing a jump in women filming themselves masturbating and distributing the footage to all comers.
Adult video (AV) director Goro Tameike, a veteran of more than 1,000 productions, says women are no longer intimidated to engage in this form of exhibitionism.
"It is natural for women to want to be looked at by men as it is in the genes of both," says the director, who specializes in the AV genre known as jukujo, which means mature woman.
The camera installed on a mobile phone is all it takes, says Shukan Taishu.
"I'll often receive a message from a boyfriend or sex friend requesting that I send videos of me masturbating," says a 27-year-old office lady. "At first, I'm a little surprised, but, of course, I'll do it. I'm happy to oblige."
Tameike says that he thinks men had, in the past, suppressed the ability for women to express themselves.
"The inner desire of women to show off has finally come to the forefront," says the director.
In digging further into the matter, Tameike interviewed French film director Patrice Leconte, whose films, such as "Monsieur Hire," which screened at the Cannes International Film Festival in 1989, often include male characters who find themselves intimidated by the fairer sex.
"He said the same thing!" enthuses Tameike. "I was stunned."
For some men, performing nude can be easy, but that is not the norm, says the director.
"Men, in general, find it tough to become naked in front of the camera," says Tameike. "For women, they tend to become more open as the filming progresses. It is a matter of them understanding how they are perceived."
Which, says the director, is only going to increase online exhibitionism by females. (A.T.)
Source: "Shiroto bijo tachi no 'nugitagari,'" Shukan Taishu (Sept. 1, page 79)
Note: Brief extracts from Japanese vernacular media in the public domain that appear here were translated and summarized under the principle of "fair use." Every effort has been made to ensure accuracy of the translations. However, we are not responsible for the veracity of their contents. The activities of individuals described herein should not be construed as "typical" behavior of Japanese people nor reflect the intention to portray the country in a negative manner. Our sole aim is to provide examples of various types of reading matter enjoyed by Japanese.