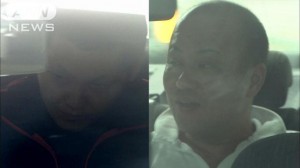 TOKYO (TR) – Tokyo Metropolitan Police on Thursday announced the arrest of two suspects for allegedly robbing a post office to open a business in the adult-entertainment industry, reports TBS News (Aug. 14).
In April, Tomonari Fukasawa, 25, and Kazuhisa Tanushi, 42, allegedly robbed a 70-year-old woman of 30,000 yen at a post office in western Tokyo.
Fukasawa, who wielded a 12-inch knife blade at the woman, has reportedly admitted to the allegations, while Tanushi, the driver of the getaway car, has denied involvement.
According to Nippon News Network (Aug. 14), the pair previously worked at a sex club together. "We did it to open a 'delivery health' operation,' Fukasawa is quoted by police in referring to what is an outcall sex business.
The matter came to light during questioning of Fukasawa for other robberies in which he was arrested, TBS News reported.