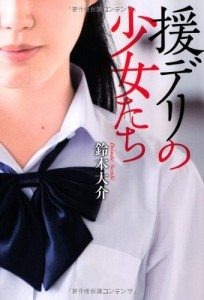 Osaka Prefectural Police on Monday arrested Yusuke Miura, 35, the leader of a prostitution ring that employed teenage girls, including a 14-year-old middle-school student who served hundreds of customers over a six-month period.
Miura reportedly used deai-kei matchmaking sites to solicit male customers for 17 girls, of which nine were in middle school. The suspect recruited his charges via smartphone applications like LINE.
The case is further proof, says Nikkan Gendai (June 19), that the market for teen hookers in Japan remains firm.
Between September and February, the 14-year-old girl provided sexual services to approximately 300 men at rates ranging between 20,000 and 30,000 yen per session. During that period she collected nine million yen in revenue, of which she was able to keep 80 percent, or 7.2 million yen.
The practice is termed en deri, an amalgamation of enjo kosai, or compensated dating, and the phrase used for out-call sex services, "delivery health" (deri heru).
In cracking down on the trade, law enforcement has had its hands full. Last month, Tokyo police arrested two male suspects for employee 10 teenage prostitutes. The month before, police in Kanagawa arrested two suspects for trafficking in teenage prostitutes, including a 16-year-old girl. Saitama police in March cited a ramen shop manager for running a teen hooker ring. Not to be outdone, Hyogo police in February arrested a man for running a teen prostitute service employing 15 girls nationwide.
Fuzoku writer Taizo Ebina tells Nikkan Gendai that the key to running such an operation is managing the teenage staff.
"A girl will take up the work because she will have a mediator for soliciting customers," says the writer. "It's encouraging to have someone there when there's trouble with a customer."
In a lot of cases, the girls are runaways and wind up living with other members of the ring in accommodations arranged by the pimp. A friendly environment and a sense of camaraderie can then develop. But, of course, there are problems — especially regarding money.
"To keep the girls keen the pimps get them hooked on drugs or alcohol and tell them lies, such as about getting married one day," says Ebina.
It gets worse.
"Unlike in the deri heru trade, there is no oversight as to hygiene," says Ebina. "So contracting a venereal disease is an issue."
Then there are the assorted problems associated with yakuza customers, many of whom are also on drugs — and, well, says Nikkan Gendai, it is shaping up to be a long summer. (A.T.)
Source: "14sai ga 720manen arakasegi joshi chukosei nurau 'en deri' no jittai," Nikkan Gendai (June 19, page 9)
Note: Brief extracts from Japanese vernacular media in the public domain that appear here were translated and summarized under the principle of "fair use." Every effort has been made to ensure accuracy of the translations. However, we are not responsible for the veracity of their contents. The activities of individuals described herein should not be construed as "typical" behavior of Japanese people nor reflect the intention to portray the country in a negative manner. Our sole aim is to provide examples of various types of reading matter enjoyed by Japanese.