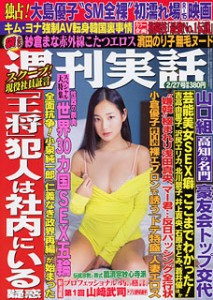 "If you quit, you owe one million yen."
According to Shukan Jitsuwa (Feb. 27), such a threat was levied upon the teenage prostitutes employed at a club busted by Kanagawa Prefectural police on February 5.
The operation is alleged to have provided male customers with enjo kosai services, meaning dates with girls, that would culminate in an erotic escapade inside a love hotel in the Tokyo metropolitan area.
Officers arrested the club's 35-year-old male manager and an employee, 21, for violating child welfare laws regarding obscene acts.
On April 26 of last year, an office worker, 61, paid a 17-year-old girl 20,000 yen for a three-hour romp at a hotel in Kawagoe City, Saitama Prefecture. The transaction was allegedly brokered by the 21-year-old suspect, who denies involvement.
"The ring employed 15 girls, aged between 14 and 17," continues the investigator. "The club recruited customers on dating sites and through telephone clubs."
Of the 20,000-yen standard fee, the prostitutes kept 50 percent, according to a news reporter for a national publication.
"The manager runs a sex club in Saitama," continues the same investigator. "He ran this enjo kosai operation between January and May of last year."
Over that period, the business collected 15 million yen in revenue.
The 21-year-old suspect was also tasked with driving the girls, primarily runaways, to rendezvous with their customers. He also monitored their activities inside a shared residence.
"I wanted to quit, but couldn't," said one girl in referring to the aforementioned fine.
The matter came to light during an investigation by Kanagawa police last year into another out-call prostitution service. In October, police busted the Enjo Kosai Delivery Health after it allegedly dispatched teenage girls to male customers in four areas of Kawasaki City.
For the current case, the investigation is ongoing. "Money flows are being examined in hopes of applying charges related to the Anti-Prostitution Law," says the investigator. (A.T.)
Source: "Yametara bakkin 100manen shojo wo tetteiteki ni tsukaitaoshita baishun kurabu keieisha," Shukan Jitsuwa (Feb. 27, page 50)
Note: Brief extracts from Japanese vernacular media in the public domain that appear here were translated and summarized under the principle of "fair use." Every effort has been made to ensure accuracy of the translations. However, we are not responsible for the veracity of their contents. The activities of individuals described herein should not be construed as "typical" behavior of Japanese people nor reflect the intention to portray the country in a negative manner. Our sole aim is to provide examples of various types of reading matter enjoyed by Japanese.