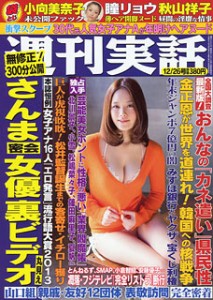 On November 30, officers from the Shizuoka Prefectural Police arrested Hitomi Sugawara, a part-time music teacher at elementary schools in Tokyo, for appearing in an adult video (AV) uploaded to an overseas Internet site.
The 27-year-old Yokohama resident was charged with assisting in the creation of obscene electromagnetic media for the purpose distribution.
According to Shukan Jitsuwa (Dec. 26), Sugawara's performances were quite professional.
Sugawara performed under the name "Shizuru Junno" for conventional AV films, while "Reiko Maki" was used for uncensored productions available for download.
The arrest stemmed from an appearance in "Married Killer," a series that includes more than 800 films. "Meet Reiko Maki, a sexy, full-bodied wife with beautiful white skin," announces the film's promotional copy.
Sugawara, graduated from the music department of the Tokyo University of the Arts. While in elementary and high school, she appeared in a number of television and radio programs for public broadcaster NHK as a part of its chorus group for children. In 2003, she was awarded top prize at a soloist contest for high school students in Kanagawa Prefecture.
The magazine speculates that her career in porn came as a result of the low wages to be earned in music and education. "For an opera appearance, she might earn enough to cover the cost of her clothing," says a local news reporter. "As a lecturer, earnings are equally low, possibly around 3,000 yen per hour."
Weekly tabloid Flash (Dec. 24) quotes an employee at an AV company who says that the industry has been in a down trend over the past five years. He says amateurs, like Sugawara, can earn between 50,000 and 70,000 yen for a film that includes two honban scenes, meaning coital sex sessions. "For uncensored films, it is higher, up to 100,000 yen," says the source. "After taxes, she might get 90,000 yen."
The aforementioned reporter heard that she was invited to enter the AV industry through an acquaintance. "There's no doubt that finances influenced her decision," says the reporter. "Outside of work in the AV industry, she also did nude photo shoots."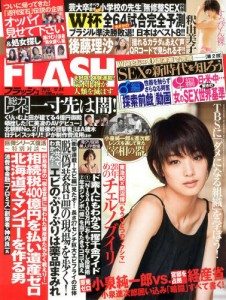 A writer covering the AV trade tells Shukan Jitsuwa that Sugawara has the makings of a real pro. "She has an E-cup chest and a rather plump figure," says the writer.
The uncensored film begins begins by interviewing her inside one room of an apartment. "Afterward, the male lead starts off with an intense manual session," says the writer. "Then she ejaculates." Upon completion, Sugawara blushes and claims she was unaware anything "went out."
She then shows that her oral skills extend beyond singing before transitioning to insertion.
After supplying yet more details of her physique, the writer enthuses, "You can really hear that opera voice among the heavy breathing."
Source: "Bijin E kappu ongaku koshi ga kozukai kasegi de hamatta shiofuki mushusei AV," Shukan Jitsuwa (Dec. 26, page 48)
Note: Brief extracts from Japanese vernacular media in the public domain that appear here were translated and summarized under the principle of "fair use." Every effort has been made to ensure accuracy of the translations. However, we are not responsible for the veracity of their contents. The activities of individuals described herein should not be construed as "typical" behavior of Japanese people nor reflect the intention to portray the country in a negative manner. Our sole aim is to provide examples of various types of reading matter enjoyed by Japanese.