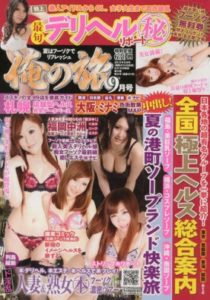 On August 26, "sex boxes" will open for business along a road in a former industrial area of Zurich, Switzerland. The wooden sheds are intended to conceal vehicles as prostitutes and clients take care of business inside.
This drive-through project cost an estimated 200 million yen and is intended to isolate the often public amorous activities that originate inside the city's red-light district.
Tokyo Sports (Aug. 23) says that such a government-sponsored initiative would be unimaginable in Japan, but maintains that the nation's sex industry is no slouch in capably offering couples a collection of options for copulation via car.
The evening tabloid speaks with Akira Ikoma, the editor of a guide to men's entertainment called Ore no Tabi (My Journey), who says that 10 years ago Hyogo Prefecture offered a drive-through terekura operation, in which men and women use a room equipped with phones to hook up.
"In the Kanazuen red-light area of Gifu City, there is a drive-through soapland bathhouse," continues Ikoma. "From the driver's seat, a customer will be able to view photos of the awahime" — or foam princesses — "on staff. The service is popular because it is a real time-saver."
"Sex on wheels" is another option. Minivans filled with prostitutes are known to cruise through tourist areas. "A tout will ask an interested customer to take his pick," assures the editor, "and he'll then be taken to a nearby love hotel."
Likely the most hazardous of Ikoma's examples is the mobile blow-job. "A 'delivery health' gal" — or call girl — "will service a guy orally as he drives a vehicle," says the editor. "This is a popular theme in adult videos." (K.N.)
Source: "Suisu de doraibusuruu fuzoku mo Nihon no kata ga sugoi," Tokyo Sports (August 23)
Note: Brief extracts from Japanese vernacular media in the public domain that appear here were translated and summarized under the principle of "fair use." Every effort has been made to ensure accuracy of the translations. However, we are not responsible for the veracity of their contents. The activities of individuals described herein should not be construed as "typical" behavior of Japanese people nor reflect the intention to portray the country in a negative manner. Our sole aim is to provide examples of various types of reading matter enjoyed by Japanese.