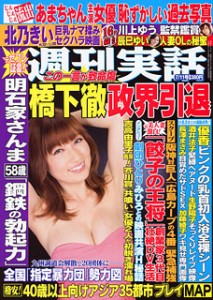 In recent months, Japan's mainstream press has cited a few examples of the benefits of "Abenomics," the term describing the policies of Prime Minister Shinzo Abe that intend to end Japan's ongoing deflationary environment.
However, according to a veteran fuzoku writer, who covers the adult-entertainment trade, the initiative has yet to have a positive impact on Tokyo's "night butterflies."
"Lately, I am seeing a lot of ladies, their hair done up high, hanging out in cheap izakaya bars after train services have stopped," says the writer, referring to the coiffured look favored by females in the kyabakura (hostess) industry. "Their employers no longer provide shuttle services to their residences so they are waiting for the first train."
Shukan Jitsuwa (July 11) reports that the elimination of transportation is a part of the cost-containment strategies now being undertaken by many of their employers, a practice that is making hostesses ripe for the picking.
If the gals were interested in simply killing time, an Internet cafe would be an option, but that is not the case.
"Drunken, middle-aged men aggressively hit on us," says Yuka, a 23-year-old who works at a club in the Nakano district until around 2 a.m. four nights a week. "In that state, they tend to be more outgoing. For us, it's like an extension of working at the club. So we ask them to buy our drinks, and they usually do, which is always nice."
Of course, that's not all.
"If a man seems to be well off, we'll negotiate an 'allowance' in exchange for going to a love hotel," the hostess continues. "Dealing with these men in this way poses no conflicts, which is not the case with our regular customers."
For many men, it is a dream come true to sleep with a kyabajo without paying to go to her club. On top of that, there is the reasonable price: a ballpark fee of 10,000 yen.
"At 20,000 yen, guys will think twice," assures Yuka. "Plus, we are also drunk, and that makes us horny."
Further, the lack of ties to their employer creates a feeling of liberation. "We can show them whatever," she says. "There is no need to pretend. Last time, I had a 50-year-old guy muff-dive me until I reached orgasm."
The aforementioned fuzoku writer tells Shukan Jitsuwa's readership that the key is to go to izakaya establishments in areas where clubs do not offer shuttle services. "Those in places like Nakano and Sugamo are good targets," the scribe says. (A.T.)
Source: "Koshoba wa gekiyasu izakaya. Okuri gekihen de fueru shihatsu machi no kyabajo no ichiman-en enko," Shukan Jitsuwa (July 11, page 45)
Note: Brief extracts from Japanese vernacular media in the public domain that appear here were translated and summarized under the principle of "fair use." Every effort has been made to ensure accuracy of the translations. However, we are not responsible for the veracity of their contents. The activities of individuals described herein should not be construed as "typical" behavior of Japanese people nor reflect the intention to portray the country in a negative manner. Our sole aim is to provide examples of various types of reading matter enjoyed by Japanese.