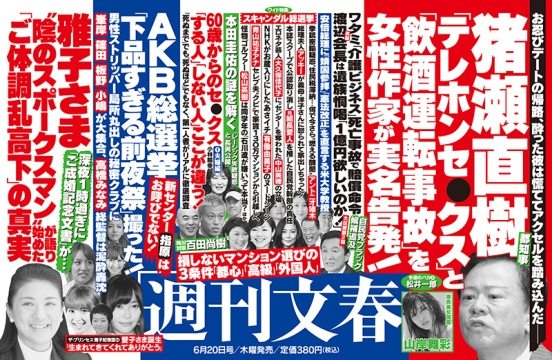 "It's something I don't dare tell anyone about, but I get really turned on by getting groped. I guess it goes back to when I was in high school and some strange man groped me on a train. I felt disgusted, yet at the same time it unleashed this feeling of intense excitement. Since then, whenever I get on a train I intentionally leave a blouse button undone, or wear a really short miniskirt, or else I ride on a line with a reputation for having lots of gropers."
Oh my, my, my. This frenzied confession of free-spirited frolic appears in the February issue of fantastic female fantasy magazine Ai no Taiken Special Deluxe, as introduced in Shukan Bunshun (June 20).
"The other day, I finally chanced upon the mother of all raunchy rides," the writer continues. "Almost from the moment I boarded the train, I sensed a sexually charged atmosphere. The faces of women in the cars were all blushing red, and I could see them squirming in pleasure. I moved to stand close to a door that didn't open, and within seconds after the train started I felt something moving against my skirt.
"Before I even knew what was happening a hand slid up and began moving toward my pussy. I didn't resist, and I felt his fingers slip past the hem of my panties. His fingertips parted my lips and the frantic friction soon had me sopping wet.
"Then with a sharp thrust, his fingers located my clit, and within seconds I came. It looks like I'll be enjoying myself aboard this clandestine cloud nine every morning on my way to work!"
This week's article is attributed to the pseudonymous Chikatetsu Oo-ero-sen, a play on words for the "Ooedo subway line" in Tokyo. In Chikatetsu the word 地下 (underground) is substituted with 痴, using the first character in chikan (a groper). And Ooedo (Great Edo) becomes Oo-ero (hugely erotic), to give the overall meaning of "The great erotic gropers' subway line."
Source: "Shukujo no zasshi kara," Shukan Bunshun (June 20, page 90)
Note: Brief extracts from Japanese vernacular media in the public domain that appear here were translated and summarized under the principle of "fair use." Every effort has been made to ensure accuracy of the translations. However, we are not responsible for the veracity of their contents. The activities of individuals described herein should not be construed as "typical" behavior of Japanese people nor reflect the intention to portray the country in a negative manner. Our sole aim is to provide examples of various types of reading matter enjoyed by Japanese.