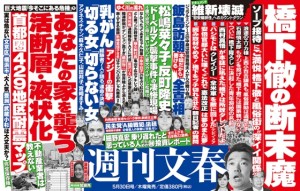 "I'd reached the limit of endurance with my do-nothing hubby, and divorced him six months ago. But since I got custody of our son, things have been damn hard for me as a single parent, and to stave the wolf from the door I took up employment in a sex shop. After about two weeks on the job I was finally getting the hang of things."
Yes we're baaaack, with another lachrymose lady's love tale, as only an enthusiastic amateur can convey, as selected by Shukan Bunshun (May 30) from the June issue of female porn fantasy fanzine Ai no Taiken Special Deluxe.
"My name is 'Hina,' I said, bowing, as I greeted the arriving customer who entered the cubicle. To my astonishment, it was my ex-husband!
"He looked as surprised as I was, if not more so, and for a moment there was tension in the air between us. But a job's a job. He reluctantly disrobed and I led him to the shower for a sukebe-scrub.
"Actually we weren't all that incompatible in bed, and he had a pretty good physique. As I went down on him, he made a pained expression. On the massage table we went all the way, just like the days when we were husband and wife, and I must say he gave a pretty energetic performance, thoroughly reaming me out.
"After he left the shop, I received a message from him on my cell phone, telling me he wanted to get back together. I haven't made my final decision yet, but we're already meeting up for sex once a week at a hotel."
For this week's raunchy byline, Bunshun's editor has come up with Wakaretemo tsuki na hito, which parodies the 1979 hit by vocalist Sylvia titled "Wakaretemo suki na hito" (Even though we've broken up, I like him). By changing suki (like) to tsuki (thrust), the title's meaning changes to "Even though we broke up, he still pokes me." (W.W.)
Source: "Shukujo no zasshi kara," Shukan Bunshun (May 30, page 101)
Note: Brief extracts from Japanese vernacular media in the public domain that appear here were translated and summarized under the principle of "fair use." Every effort has been made to ensure accuracy of the translations. However, we are not responsible for the veracity of their contents. The activities of individuals described herein should not be construed as "typical" behavior of Japanese people nor reflect the intention to portray the country in a negative manner. Our sole aim is to provide examples of various types of reading matter enjoyed by Japanese.