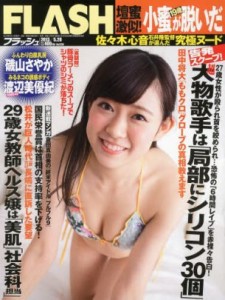 Earlier this month, the Osaka Prefectural Board of Education announced a six-month suspension for a 29-year-old female high-school teacher who was working as a prostitute in her free time.
The teacher, who resigned on the same day, was reportedly working at a call-girl service that dispatched her to love hotels in Osaka in order to repay two million yen in credit card debt she accrued from buying cosmetics and clothing. Between October of last year and April, the teacher earned 1.6 million yen in wages as a prostitute for the club.
Though the board indicated that the incident was unprecedented, Nikkan Gendai (May 8) says women who engage in illicit employment are present in multiple aspects of everyday life — from the desk clerk at the local ward office to the manager at the children's nursery, who is to know if she freelances as an adult video (AV) star or deri heru ("delivery health") call-girl on the side?
"During an interview with a plump, 160-centimeter-tall AV actress, I asked her about her regular job," says porn film writer Kazuo Kajiyama. "I was stunned to find out that she is a police woman. I also knew about an elementary school teacher who also worked in AV. They both were 24 years old."
For the teacher in Osaka, the revelations came to light after the board received an anonymous message at the end of March that included the name of the club and the teacher's name.
Gendai says that in the average case a former lover is the usual suspect for spilling the beans.
Freelance writer Taizo Ebina knows of one 35-year-old teacher moonlighting in the adult-entertainment biz whose identity was revealed via a promotional video posted on the club's Web site. "Even though her face was obscured by a mosaic, she was identified by her body motions and voice," says the writer. "The shape of her ears and a mole were also dead giveaways."
Ebina goes on to say that problems also arise when working girls divulge their main profession to regular customers or good friends under the condition that the information be kept secret. "Still, it gets out," says the scribe. "Being a public servant is considered a stable job. So for the confidants, it becomes a matter a matter of jealousy."
According to Flash (May 28), most one-time workers in the sex trade eventually return. The magazine is not so sure that will be the case with the 29-year-old in Osaka. Her teacher's license has reportedly not been revoked, in which case she very likely will surface at another school. (A.T.)
Source: "Okatai shokugyo onnatachi 'fuzoku arubaito' ha naze haberu?" Nikkan Gendai (May 8)
Note: Brief extracts from Japanese vernacular media in the public domain that appear here were translated and summarized under the principle of "fair use." Every effort has been made to ensure accuracy of the translations. However, we are not responsible for the veracity of their contents. The activities of individuals described herein should not be construed as "typical" behavior of Japanese people nor reflect the intention to portray the country in a negative manner. Our sole aim is to provide examples of various types of reading matter enjoyed by Japanese.