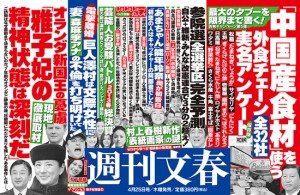 "After I ran away from home, this guy in his 40s let me camp out at his place. At first I guess I felt obliged to demonstrate my appreciation, so I gave him a few blow jobs and hand jobs. But gradually I began to feel real love toward him more and more, and anyway we started screwing on a regular basis.
"He really enjoyed blow jobs right from the start — never seemed to get tired of them, even after 20 minutes or longer — and he also loved it when I licked his scrotal sack or gave him a rim job."
Here we go again, with another aspiring amateur amorous account of an affair that may or may not have actually happened, as selected by Shukan Bunshun (Apr. 25) from the pages of the February issue of female porn fantasy fanzine Ai no Taiken Special Deluxe.
"Since he was an ero-oyaji (horny old guy) he would make a lot of flaky requests while we were having sex," she continues. "Like wanting to shoot photos of me, or opening the curtains to the room and then making me spread my legs apart to form a letter "M" while he worked me over with a vibrator. The people across the way could see everything! He also liked to poke me in outdoor locations.
"But y'know it really made me happy to hear him get all choked up and blurt out to me, 'Meeting you is the best thing that ever happened in my life. I sure am glad I stayed single until reaching this age.'
"I'm planning to give him my wholehearted 'service' again today too."
For this effort's raunchy byline, Bunshun's editor has come up with Bicchi to no sogu, which parodies "Michi to no Sogu," the Japanese title of the 1977 Steven Spielberg science fiction blockbuster "Close Encounters of the Third Kind." By tweaking michi (the unknown) to bicchi, the title's meaning changes to "An encounter with a bitch." (W.W.)
Source: "Shukujo no zasshi kara," Shukan Bunshun (Apr. 25, page 91)
Note: Brief extracts from Japanese vernacular media in the public domain that appear here were translated and summarized under the principle of "fair use." Every effort has been made to ensure accuracy of the translations. However, we are not responsible for the veracity of their contents. The activities of individuals described herein should not be construed as "typical" behavior of Japanese people nor reflect the intention to portray the country in a negative manner. Our sole aim is to provide examples of various types of reading matter enjoyed by Japanese.