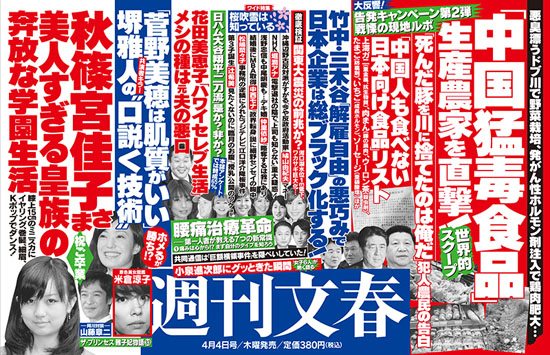 "I don't dare tell anyone, but as part-time work I've been engaging in enjo kosai ('compensated dating,' i.e. amateur prostitution). Actually I just wanted to take some normal job, but my husband opposed it. Then by coincidence I stumbled over a web site called 'Housewife Prostitution,' and I registered.
Hold on tight folks, 'cause here we go with another amateur erotic submission, this one taken from the February issue of femme-oriented sex publication Ai no Taiken Special Deluxe, as appearing in Shukan Bunshun (Apr. 4).
"My first 'John' was Motohashi-san, who bore an amazing resemblance to that gorgeous masculine hunk, actor Hiroshi Sato. When we climbed into the bath together in the hotel, we stared groping each other in the tub, and it got me all excited.
"I thought we'd towel off and move to the bed, but Motohashi couldn't wait and began balling me in the bath — without even slipping a condom on his ochin-chin. I resisted at first saying, 'No, you can't do it bareback,' but it felt too good to stop.
"Then just when he was about to ejaculate, he pulled out and ejaculated an impressive wad all over my butt."
For this installment's naughty byline, Bunshun's editor has punned the lyrics from songwriter Kazumasa Oda, leader of the folk rock band Off Course. Who in the 1979 single "Sayonara" penned the immortal lyrics, Sayonara, sayonara, sayonara, mo sugu soto ni shiroi fuyu (Good-bye, good-bye, good-bye, outside it will soon be white winter). This is altered to mo sugu soto ni shiroi shiru (on the outside there will soon be white jism). (W.W.)
Source: "Shukujo no zasshi kara," Shukan Bunshun (Apr. 4, page 117)
Note: Brief extracts from Japanese vernacular media in the public domain that appear here were translated and summarized under the principle of "fair use." Every effort has been made to ensure accuracy of the translations. However, we are not responsible for the veracity of their contents. The activities of individuals described herein should not be construed as "typical" behavior of Japanese people nor reflect the intention to portray the country in a negative manner. Our sole aim is to provide examples of various types of reading matter enjoyed by Japanese.