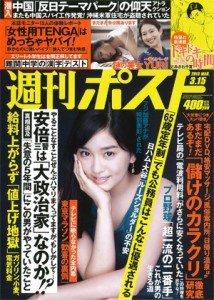 On March 3, Tenga, Japan's leading manufacturer of masturbation products for men, released a lineup of three pod-like vibrators targeting females.
Under the Iroha brand, each member of the trio boasts an ultra-soft exterior, a quiet motor that allows for changeable vibration intensity, and a USB-powered charging dock attached to a storage case. Each unit, priced at 6,800 yen, is expected to be marketed in 10 countries.
Shukan Post (Mar. 15) sought the feedback of 15 women who have used the product. Nayuka Mine (@minenayuka), a former adult video (AV) actress and self-described masturbation "veteran," tells the tabloid that she is very pleased with the Iroha.
"The Iroha has some features that other adult products do not have," says Mine, who is now a writer covering the AV industry.
First of all, there is the docking station, which Mine says is a huge improvement over other vibrators in which batteries much be changed.
"For battery-powered vibrators, the strength is high at the outset," says Mine, who claims to diddle down there 30 times each month. "But over subsequent uses the intensity falls off. I want to bring myself to a climax, but if the machine stalls I get frustrated."
As a result, Mine says that she changes batteries prior to each use. "I always have a feeling of uneasiness that the clerks at the convenience store think that I'm buying the batteries for my vibrator."
The writer is also very much attracted to the fact that Iroha can be washed and comes with a one-year warranty.
"Cheap vibrators will break easily," says Mine. "Not only that, once they stop working they generate heat and spew fumes. The plastic also can melt — it is a dangerous situation." (A.T.)
Source: "Joseiyo Tenga no zeccho wo honshi monitaa 15nin ga taikan hokoku!" Shukan Post (Mar. 15)
Note: Brief extracts from Japanese vernacular media in the public domain that appear here were translated and summarized under the principle of "fair use." Every effort has been made to ensure accuracy of the translations. However, we are not responsible for the veracity of their contents. The activities of individuals described herein should not be construed as "typical" behavior of Japanese people nor reflect the intention to portray the country in a negative manner. Our sole aim is to provide examples of various types of reading matter enjoyed by Japanese.