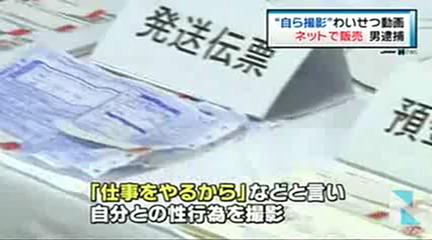 The adult video (AV) genre known as fuzoku no mensetsu (or sex-industry interview) features women being given "trial" runs by the proprietor of an adult-entertainment club.
Evening tabloid Tokyo Sports (Jan. 28) reports on one enterprising former Ground Self-Defense Force member who posed as such a proprietor in order to produce porn productions composed of the proceedings.
Tokyo Metropolitan Police last Thursday arrested Yuya Togo, 35, for allegedly selling a non-censored pornographic Blu-ray Disc to a man in Niigata Prefecture for 3,500 yen in December. (It should be noted that, by law, films available in Japan are required to have genitalia properly censored.)
"I did it to pay off debts," Togo is quoted by police in admitting to the allegations.
According to Tokyo Sports, the suspect made a total of six home productions. Togo is alleged to have targeted women looking for sex-industry work on matchmaking sites. During subsequent "interview" sessions, he then photographed his personal sexual activities with the women. At least one of the victims was under 18 years of age.
Tokyo Sports wonders if truth is as wild as pornographic fiction. "It's rare for a manager to do any kind of short-course training of an interviewee," says a deri heru (out-call sex) establishment.
The shops consider the women to be commodities, so checking out the merchandise in the buff is normal, says the same manager. "After seeing her naked there may be some photography and training involved afterwards," says the source. "But the shots are stills, not videos." The resulting images are used for promotion on the club's site.
Since last August, Togo is believed to have collected 400,000 yen in sales. Police are now investigating whether the suspect was involved in other crimes.
An industry insider says that cheating women for free sex is not a new concept in the adult-entertainment trade. "Typically, several days after the fake interview," says the source, "the guy will call the gal and say her application has been 'rejected' as an excuse for non-employment."
The aforementioned manager offers recruits some advice. "First, make sure that the store actually exists," says the manager. "Also, it is a sign of trouble if a shop's employee carries out the interview training to full sex. It's best not to proceed from there." (A.T.)
Source: "Nise 'fuzoku mensetsu' hamedori otoko taiho, jissai ni ha aru no?" Tokyo Sports (Jan. 28)
Note: Brief extracts from Japanese vernacular media in the public domain that appear here were translated and summarized under the principle of "fair use." Every effort has been made to ensure accuracy of the translations. However, we are not responsible for the veracity of their contents. The activities of individuals described herein should not be construed as "typical" behavior of Japanese people nor reflect the intention to portray the country in a negative manner. Our sole aim is to provide examples of various types of reading matter enjoyed by Japanese.