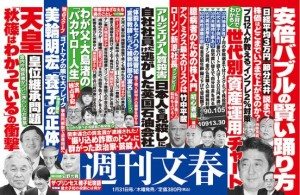 "I was on my way home after visiting my mother in law, who had been hospitalized. To my misfortune, I wound up on an extremely crowded rush-hour train. I found myself pushed over to a corner by the train's door, when I had the sensation of being groped. That prompted me to disembark from the train at the next station, which was Shibuya."
Thus begins a randy gal's description of a ribald romp from the pornographic pages of a fanzine for female frolicking — last October's Ai no Taiken Special Deluxe — as appearing in Shukan Bunshun (Jan. 31).
"I had felt a strange contact against my upper thigh," the writer continues. "Just in front of me was the one who seemed to be the groper, a man wearing a suit, who looked to be around age 30.
"Although I continued glaring at him, he kept on touching me with a completely detached expression. I felt angrier and was getting ready to expose him with a loud bellow, but just then I felt the touch to my thigh from another direction.
"It was then it dawned on me that I was under assault from a group of gropers. And it became obvious that these fellows had had plenty of practice. From the hem of my panties, one's fingers went down my backbone and rubbed my anus. Another succeeded in a similar invasion from the top of my brassiere. And they kept at it, even forcing me to grasp one's penis and grip it until it spurted with hot cum! What an utterly disgusting experience that was!
For the pseudonymous byline, our vote for pun-of-the-week goes to Jurin-toiro. The word junnin-toiro, literally "10 people, 10 colors," is a Japanese saying used to express diversity — similar to the English expression "so many men, so many minds." By changing 十人 junin (10 people) to 蹂躙 jurin, we get "10 colorful ways of violating someone." (W.W.)
Source: "Shukujo no zasshi kara," Shukan Bunshun (Jan. 31, page 95)
Note: Brief extracts from Japanese vernacular media in the public domain that appear here were translated and summarized under the principle of "fair use." Every effort has been made to ensure accuracy of the translations. However, we are not responsible for the veracity of their contents. The activities of individuals described herein should not be construed as "typical" behavior of Japanese people nor reflect the intention to portray the country in a negative manner. Our sole aim is to provide examples of various types of reading matter enjoyed by Japanese.