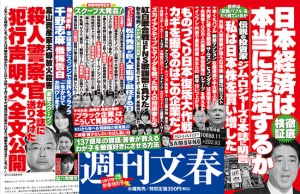 When I first moved to Tokyo, I lived in an apartment with no bath, and other residents of the building all used to go to the same public bathhouse. One day while on the way home from the bathhouse I met a guy who was living in the same building, and we walked back together,"
From such humble beginnings springs an erotic tale, gleaned from the December issue of women's amateur fantasy porn mag Muteki Renai S*girl, as introduced in Shukan Bunshun (Jan. 17).
"'This winter sure has been cold, hasn't it?' I remarked to him, and he responded by saying, 'Do you feel warmer when I do this?" and he embraced me right there on the street.'
"I'd been without a man in my life, and the warmth from his body served as impetus to pull me into his room. He gave me a kiss so urgent it felt like he wanted to take a bite out of me, and rasped in a husky voice, 'Hey, the walls here are thin, so keep your voice down!'
"I felt a little scared that there would be a gap, between the cozy image of sex and the reality, but the session of intercourse that followed was done so frantically as to push up the mercury in the thermometer.
"Although we'd just come from the public bath, the exertion left us both drenched in sweat! (Giggle)."
For the pseudonymous byline, Bunshun's writer provides a bit of '70s Japanese folk music, with a twist on the mournful lyrics of Kandagawa ("The Kanda River"), the 1973 hit single by folk trio Kaguyahime. The song was about a cohabitating young couple who lived in a tiny apartment with no bath, and the final line in its refrain went, Tada anata no yasashisa ga kowakatta (But I was only afraid of your gentleness). Yasashisa here is changed yarashisa, a short form of iyarashisa, meaning indecency, thereby changing the meaning to something along the lines of "But I was only afraid of your raunchiness." (W.W.)
Source: "Shukujo no zasshi kara," Shukan Bunshun (Jan. 17, page 101)
Note: Brief extracts from Japanese vernacular media in the public domain that appear here were translated and summarized under the principle of "fair use." Every effort has been made to ensure accuracy of the translations. However, we are not responsible for the veracity of their contents. The activities of individuals described herein should not be construed as "typical" behavior of Japanese people nor reflect the intention to portray the country in a negative manner. Our sole aim is to provide examples of various types of reading matter enjoyed by Japanese.