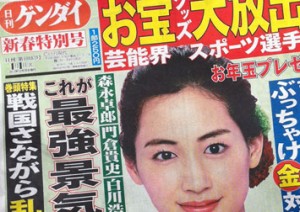 In the early morning hours of September 2 of last year, a group of approximately 10 males in ski masks and armed with metal bats arrived at club Flower, located in the Roppongi entertainment district, and assaulted 31-year-old restaurant manager Ryosuke Fujimoto, who was drinking in the club Flower's VIP room with a party of five or six persons.
Fujimoto suffered substantial head injuries and was transported to a nearby hospital, where he died an hour and 20 minutes later.
The grisly crime has remained unsolved, though Tokyo Metropolitan Police have issued a number of arrest warrants for former members of the Kanto Rengo bosozoku motorcycle gang.
The club, which is now closed, was located on the second floor of the Roi Building, which houses dozens of clubs, bars, and restaurants. Nikkan Gendai (Jan. 1) reports that in spite of the murder investigation and rumors of a redevelopment project the building's tenants still swing.
"Flower, stained with a sea of blood, changed its name after the incident," says a local restaurant employee. "But the club's managers were busted immediately for licensing problems. Now, a chain is stretched across the entrance. People find it to be a strange scene since there is a no plan for it to reopen."
It also could seem strange since other businesses in the building haven't missed a beat. (Nikkan Gendai describes the building with the term fuyajo, meaning a castle that never sleeps.)
Zoo Tokyo, a huge, high-end kyabakura (hostess club) occupying one entire floor, has been doing a brisk trade. During this past bonenkai season, customers were lined up outside, waiting to spend between 20,000 and 30,000 yen (entrance fees start at 5,000 yen) on one of the 100 hostesses on staff. (The club maintains 250 ladies on its books.)
Any lingering effects of the murder and the ongoing recession seem to not matter. But that will change quickly if continuing rumors about a redevelopment plan prove to be true.
Local media has reported that the massive project, which may extend from the site Roi Building to the edge of Mori Building's Roppongi Hills complex, could begin in 2013.
"I heard that the Roi Building would be demolished," says a hostess. "Is it real? I mean, we've heard this before. The club is telling me to earn as much money as I can. So I'm doing my best."
So for now, concludes Nikkan Gendai, the flickering, suspicious lights of the sleepless castle continue. (A.T.)
Source: "Hangure shudan ga boko satsujin demo Roppongi Roa Biru ha konya mo 'fuyajo,'" Nikkan Gendai (Jan. 1, page 7)
Note: Brief extracts from Japanese vernacular media in the public domain that appear here were translated and summarized under the principle of "fair use." Every effort has been made to ensure accuracy of the translations. However, we are not responsible for the veracity of their contents. The activities of individuals described herein should not be construed as "typical" behavior of Japanese people nor reflect the intention to portray the country in a negative manner. Our sole aim is to provide examples of various types of reading matter enjoyed by Japanese.