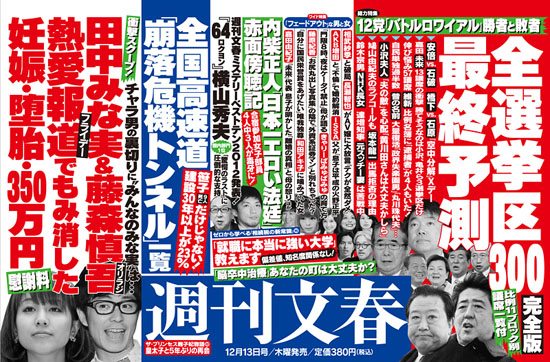 "My friend Nagisa and I are both on the hunt for a hubby. At a recent konkatsu (matchmaking) party, we exchanged glances with a pair of guys I'll just call "H" and "M," and after the party the four of us went to H's place for a few drinks. Maybe it was the effects of the booze, but pretty soon we had paired off, me with H and Nagisa with M, and the mood was definitely leaning toward etchi (sex)."
Uh oh, well here we go, with another whopper of a sexy tale (or shall we say tail?), as extracted from the August issue of female erotic fantasy magazine Ai no Taiken Special Deluxe, as introduced in Shukan Bunshun (Dec. 13).
"Before I knew it I was sopping wet down there," she continues, "and Nagisa, who was right on the floor beside me, was on the receiving end of a steamy session of cunilingis, which heightened my own excitement.
"The next thing I knew, H was on top of me in the missionary position, thrusting away, and I was panting and moaning with no restraint at all. Nagisa's sound effects were just as loud, maybe even more so.
"H shot off in my womb, and then immediately after he pulled out, M climbed on top of me! Then H, who was watching, turned toward Nagisa and began having sex with her. Not to be outdone, M flipped me over and began doing it to me doggy style. This back-and-forth, in-and-out went on all night, until, exhausted from multiple orgasms, the four of us all collapsed into a heavy sleep.
"Obviously, this was not what I had in mind when I embarked on a hunt for a husband!"
This week's anonymous byline is a play on the title of Agatha Christie's 1939 mystery "And Then There Were None," which in Japanese is "Daremo inakunatta" (literally, everyone went away). This was tweaked by Bunshun's puerile punster into the double negative Dare mo IKA-naku natta (There was no one who didn't go, i.e., everybody came). In Japanese, of course, a person having an orgasm does not "cum," but "goes." (W.W.)
Source: "Shukujo no zasshi kara," Shukan Bunshun (Dec. 13, page 103)
Note: Brief extracts from Japanese vernacular media in the public domain that appear here were translated and summarized under the principle of "fair use." Every effort has been made to ensure accuracy of the translations. However, we are not responsible for the veracity of their contents. The activities of individuals described herein should not be construed as "typical" behavior of Japanese people nor reflect the intention to portray the country in a negative manner. Our sole aim is to provide examples of various types of reading matter enjoyed by Japanese.