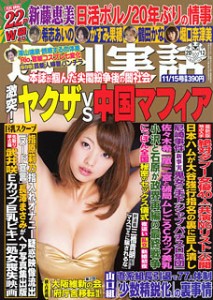 In October, a 75-year-old part-time tutor and instructor at a private middle school in Akiruno City, Tokyo was arrested for a second time for repeated instances of sexual harassment of female middle-school girls.
Now, reports Shukan Jitsuwa (Nov. 15), more details on the victims has begun to surface.
Minoru Ishida, a former primary school principal, was first taken into custody on a charge of indecent assault by officers from the Akishima Police Station on September 27. After ordering a 14-year-old girl to stay for "independent study" in a private room, he allegedly fumbled with her breasts and kissed her. The incident emerged after the girl shared the story with her parents.
The police station investigating the matter later received a series of witness accounts from students who told of similar cases of molestation. This lead police to discover that there were multiple victims, and Ishida was subsequently re-arrested on October 24.
"It is a common practice to employ a former headmaster at a preparatory educational institution of this type in order to boost the school's reputation," says a reporter from a nationwide newspaper. "Ishida has the right background, as he had assumed the position of headmaster at three different elementary schools."
His reputation was outstanding, continues the reporter: "So people associated with the institution are incredibly shocked."
Shukan Jitsuwa says that he confessed to officers that his sexual needs were not being met.
His children are already independent and living with his spouse, and his neighbors regard him as being a reserved, warmhearted man.
"But he completely changed once he arrived at school," the same reporter is quoted. "As soon as he became alone with a student, he would embrace her with hug from behind. He'd fumble with her breasts, and then kiss the student by turning her to face him."
He also caressed the victim's private areas. "Sometimes, it lasted about an hour," says the journalist. "The incidents are believed to have started about a year ago. The total number of victims numbers around ten. Officers investigating the case are speechless."
Shukan Jitsuwa is more concerned about the victims. (K.N.)
Source: "Joshi chugakusei wo sawarimakutta 75sai jukukoshi no osakan teguchi," Shukan Jitsuwa (Nov. 15, page 51)
Note: Brief extracts from Japanese vernacular media in the public domain that appear here were translated and summarized under the principle of "fair use." Every effort has been made to ensure accuracy of the translations. However, we are not responsible for the veracity of their contents. The activities of individuals described herein should not be construed as "typical" behavior of Japanese people nor reflect the intention to portray the country in a negative manner. Our sole aim is to provide examples of various types of reading matter enjoyed by Japanese.