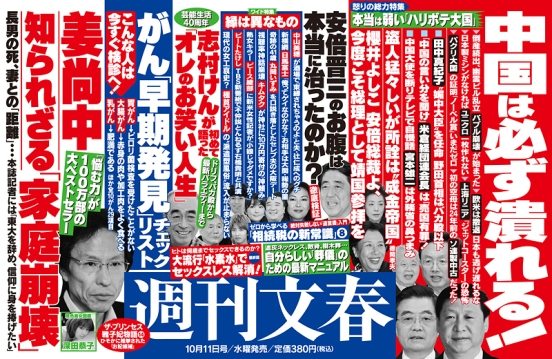 "I enjoy going out to sing karaoke by myself. Once, while doing this in a karaoke salon, I was surprised to be interrupted by a waiter, who brought me a cocktail. He said it was compliments of another customer, a young man. Since then, we have teamed up for duets every now and then."
Uh-oh, we can imagine what's coming next, in this lurid contribution that appears the August edition of the female fantasy magazine Ai no Taiken Special Deluxe, as introduced on the pages of Shukan Bunshun (Oct. 11).
"Last week," she continues, "while we were singing a duet, he slipped his arm around my shoulder, and his hand began roaming from my upper arm to my breast. It felt nice, but to keep up appearances I complained to him, saying, 'Hey, cut out the groping,' and he teased me by replying, 'Eh? Those words aren't in the lyrics.'
"I could see he was getting excited when he turned to me and asked, 'Will you be so kind as to lick my "microphone?"'
"When I went down on his throbbing erection, he moaned, saying, 'You're not only a talented singer, but you give great head too!' I took him in all the way to the root. We could hear the mike picking up the amplified sound effects of my noisy slurping, which sounded like 'picha-picha jupo-jupo,' emanating from the loudspeaker.
"Then he came in my mouth, and I swallowed every drop!"
The article's byline is "Mara-iku pafoomansu." Bunshun's punster pulls off this fiendishly naughty pun through the addition of just one katakana character. In Japan, a "mike performance" is when a pro wrestler grabs the announcer's microphone while in the ring during a match and starts to boast of his greatness and/or harangue the audience. By adding ra, maiku becomes mara-iku, altering its meaning from microphone to "penis cum performance."
Source: "Shukujo no zasshi kara," Shukan Bunshun (Oct. 11, page 101)
Note: Brief extracts from Japanese vernacular media in the public domain that appear here were translated and summarized under the principle of "fair use." Every effort has been made to ensure accuracy of the translations. However, we are not responsible for the veracity of their contents. The activities of individuals described herein should not be construed as "typical" behavior of Japanese people nor reflect the intention to portray the country in a negative manner. Our sole aim is to provide examples of various types of reading matter enjoyed by Japanese.