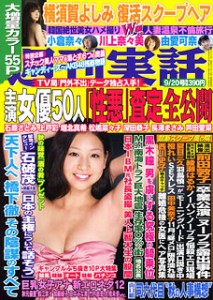 With the Tokyo Sky Tree having welcomed over 16.66 million visitors by August 29 — the tower's 100th day in business — Shukan Jitsuwa (Sep. 20) has discovered a new sex business taking advantage of the interest in Tokyo's latest landmark.
A 45-year-old who runs a tangerine (mikan) farm in Wakayama Prefecture encountered the operation towards the end of August, when he went to see the 634-meter-tall structure with three of his colleagues.
"As we were walking toward Asakusa, after visiting the Tokyo Sky Tree, a van parked on the side of the road suddenly approached," the farmer remembers. "A number of girls who seemed to be in high school asked us if we were there for a tour. It caught us by surprise and we ignored them. Then they asked if we wanted 'to play.'"
A middle-aged male driver of the vehicle then allegedly said, "At least please check out their faces."
There were three girls sitting in the back seat. "We were drunk," continues the Wakayama resident. "So we actually ended up having a conversation. We learned that they charge 10,000 yen for full service. This includes a ride to a love hotel in Kinshicho or Asakusa."
Shukan Jitsuwa says that mobile sex services are on the rise, so to speak.
"What they witnessed was a baishun-kaa," says a writer covering the fuzoku (or commercial sex) trade, referring to what is literally a sex-shop delivery service. "These cars navigate through Kinshicho and Kabukicho."
The number of cars increased with the opening of the Tokyo Sky Tree, adds the source. "In China, such cars were busted at the end of June so the concept has spread. In the case of the Tokyo Sky Tree, Chinese tourists are good targets."
Many of the working women are in fact underage girls, which requires caution, says the writer: "It is too risky to have the girls bring customers to the hotels directly. But by using a car to ferry clients straight to the hotels minimizes such trouble. This is the aspect to the business that makes it truly underground." (A.T.)
Source: "Sukaitsurii kanko kyaku wo nerau gyaru bakari no ichiman-en baishun-kaa ga haikai-chu," Shukan Jitsuwa (Sep. 20, pages 220-221)
Note: Brief extracts from Japanese vernacular media in the public domain that appear here were translated and summarized under the principle of "fair use." Every effort has been made to ensure accuracy of the translations. However, we are not responsible for the veracity of their contents. The activities of individuals described herein should not be construed as "typical" behavior of Japanese people nor reflect the intention to portray the country in a negative manner. Our sole aim is to provide examples of various types of reading matter enjoyed by Japanese.