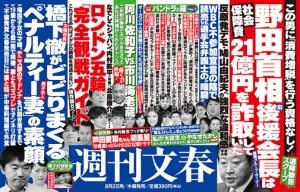 "Mrs. K., my neighbor, confided to me the other day that she's worn out because her husband 'has too much energy, and since I've got my hands full with the kids I just don't feel like doing it.' I wish I could find someone to substitute…"
"She may have said this half in jest, but it found an eager listener, as after three years of marriage the bloom has gone off on my love life and I had been feeling really frustrated over lack of sexual satisfaction."
Hidey-ho and here we go, with another female masturbatory fantasy from the April issue of the unrestrained women's porn mag, Ai no Taiken Special Deluxe, as introduced in Shukan Bunshun (Aug. 2).
"K's husband and I set up an appointment and after a couple of drinks we began to unwind. Soon he moved his thighs apart and confessed to me, 'This thing is constantly getting me in trouble. My wife doesn't seem to like it.'
"And he showed it to me. Not only was it big, but when erect it curved backwards towards his abdomen. After some basic foreplay he began groping me awkwardly, like you'd expect from a high school boy. Once he rammed it in, his piston-like thrusts became rhythmic, and the friction from his organ made me come right away.
"Having been frustrated by the lack of satisfaction for so long, my desire knew no bounds, and as I moaned, 'This is the first time I've ever had it so good,' I experienced three separate orgasms, one after the next."
For this week's anonymous byline, Bunshun's editor has bestowed the writer with "Tonari no teishu wa yoku koshi furu teishu da," immediately recognizable as a creative twist on a famous old Japanese tongue twister that goes Tonari no kyaku wa yoku kaki kuu kyaku da (The guest of the neighbor often eats persimmons). In this variation, it means "The husband next door often swings his hips." (W.W.)
Source: "Shukujo no zasshi kara," Shukan Bunshun (Aug. 2, page 101)
Note: Brief extracts from Japanese vernacular media in the public domain that appear here were translated and summarized under the principle of "fair use." Every effort has been made to ensure accuracy of the translations. However, we are not responsible for the veracity of their contents. The activities of individuals described herein should not be construed as "typical" behavior of Japanese people nor reflect the intention to portray the country in a negative manner. Our sole aim is to provide examples of various types of reading matter enjoyed by Japanese.