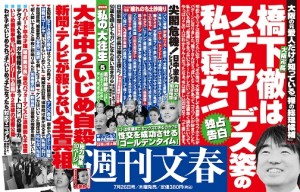 "The president of our company is notorious for his womanizing. The other day, I made a serious error that caused the company to suffer a major loss. The boss used that as a pretext for making me do something naughty."
Woo boy, here we go again, with another candid carnal confession from the pages of the woman's erotic fanzine Muteki Renai S*girl (June), as introduced in the pages of Shukan Bunshun (Jul 26).
"After that things got progressively worse," she continues. "One day, he pushed me down on my desk, and on top of the scattered notes and documents parted my legs, thrust his face into my crotch and began performing cunilingus on me.
"Tonight you're not responding very well," he complained with a chuckle, while stimulating one of my most sensitive acupressure points. His finger technique soon overcame any resistance and I became lubriciously stimulated.
"I grasped his penis and guided it inside me, and he drove in all the way to the hilt. Feeling his stiff rod thrusting in and out, I lost all control, and soon found myself drowning in pleasure at the office, at the boss's lecherous whimsey."
For this week's pseudonymous byline, the writer tweaks the expression Seiko wa shippai no moto (Failure is the source of success), changing the word 成功 (seiko, success) to 性交 (seiko, intercourse), and thereby altering the meaning to "The result of the mistake was sexual intercourse." (W.W.)
Source: "Shukujo no zasshi kara," Shukan Bunshun (July 26, page 101)
Note: Brief extracts from Japanese vernacular media in the public domain that appear here were translated and summarized under the principle of "fair use." Every effort has been made to ensure accuracy of the translations. However, we are not responsible for the veracity of their contents. The activities of individuals described herein should not be construed as "typical" behavior of Japanese people nor reflect the intention to portray the country in a negative manner. Our sole aim is to provide examples of various types of reading matter enjoyed by Japanese.