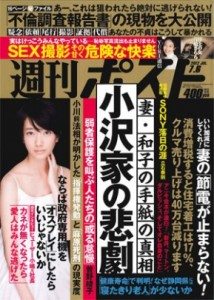 A pair of high-end prostitution services busted earlier this month in Shibuya were staffed with female celebrities, reports Shukan Post (July 6).
To recap, officers from the peace preservation division of the Tokyo Metropolitan Police took Seiji Osakabe (37), the manger of clubs Jukebox and Aoyama Bijo Hyakkei, and 14 other employees into custody for operating a deri heru (out-call sex) service, a violation of the Anti-Prostitution Law.
The clubs dispatched the 110 female employees on its books to waiting customers. Advertising literature from the establishments touted them as being the highest quality in the city, and employing ladies who have endured stringent interview processes. Some worked regularly as entertainers and race queens, others were college students.
Since 1999, the clubs racked up a customer list that includes 18,600 names. Sales totaled three billion yen over that period.
According to promotional Web sites, fees for approximately one hour of services started at 35,000 yen (dubbed the Imperial Class) and continued upward to 50,0000 (Royal Class). Yet a service extending for 20 hours was available for 650,000 yen, and another featuring 300 minutes with a notable celebrity could be had for 1.5 million yen.
"I heard that pin-up girls attached to big agencies were working for these clubs," says an employee in the fuzoku trade, which is the commercial sex industry. "One was a huge-breasted gal who first released photo books and then started appearing on variety programs on television. Another started with pin-up work but then moved on to television dramas and theater performances. The clubs also staffed super-busty gals on the verge of stardom. It was for all of these types that customers would shell out 1.5 million yen for 300 minutes."
Shukan Post wonders why somewhat famous celebrities would engage in such side work. Teruhiko Aoyama, a fuzoku writer, explains that the girls simply were looking for extra cash.
"The clubs were known in the industry as places where one could make a lot of money," says Aoyama. "If a popular kyaba-jo (hostess) from a separate club applied she'd likely be rejected due to the strict screening process. That means the gals were high-level types. Therefore, the customer base was equally high, and the job was considered quite favorable."
A police investigator describes some of the customers to the tabloid.
"The girls referred to Sunday as 'jockey day' as the riders would use the club after the races," the police source says. "Doctors and lawyers were also regulars, and companies used the girls as entertainment for clients." (K.N.)
Source: "Tekihatsusareta cho kokyu baishun kurabu '300pun 150manen' no onna ha kyonyu tarento," Shukan Post (July 6, pages 158-159)
Note: Brief extracts from Japanese vernacular media in the public domain that appear here were translated and summarized under the principle of "fair use." Every effort has been made to ensure accuracy of the translations. However, we are not responsible for the veracity of their contents. The activities of individuals described herein should not be construed as "typical" behavior of Japanese people nor reflect the intention to portray the country in a negative manner. Our sole aim is to provide examples of various types of reading matter enjoyed by Japanese.