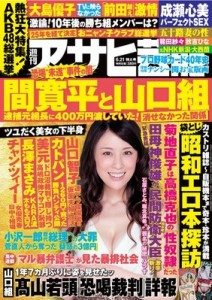 On June 4, former Yamaguchi-gumi member Kozo Hattori, 61, was taken into custody by officers from the Osaka prefectural police for threatening and attempting to blackmail entertainer Hazama Kanpei.
With ties to yakuza groups being taboo in light of the enactment of anti-gang legislation last year, Kanpei, who is affiliated with agency Yoshimoto Kogyo, maintains that a relationship between himself and the Yamaguchi-gumi has not existed. Yet weekly tabloid Shukan Asahi Geino (June 21) says that might not exactly be the case.
According to the investigation, between January of last year and this past March, Hattori is suspected of sending nine letters to the home and office of the 62-year-old Kanpei. Included in each sealed envelope was a photo of Kanpei and Hattori taken over 20 years ago. The message was clear: If money is not paid, the photo will be distributed.
Nationwide anti-gang legislation that started on October 1 prohibits ordinary citizens from doing business transactions with gangsters.
Last August, television personality Shinsuke Shimada resigned from show business after it was revealed that he had a relationship with an upper member of the Yamaguchi-gumi. Shimada is also affiliated with Yoshimoto Kogyo.
Hattori denies threatening Kanpei, but admitted to demanding money as it was for the repayment of a loan.
Kanpei had reportedly been nervous prior to the arrest of the former gang member. "There has been on official announcement, but in fact someone smashed a first-floor window of Kanpei's residence on March 11," an employee at Yoshimoto Kogyo tells the tabloid.
Shukan Asahi Geino explains that such an action is typical of a yakuza organization wishing to strike fear into a target.
"Further, an Osaka broadcasting station received the same sealed letter with the photo that month," says the aforementioned employee. "There was also a demand for cash. An official complaint was then registered with the Osaka prefectural police."
A local beat writer says that the pair first met in Shiga Prefecture in 1980, when Kanpei was just breaking into the business. "Up until Kanpei moved to Tokyo in 1988, the relationship was such that Hattori would introduce Kanpei to potential work opportunities," says the writer. "However, Kanpei told police that he was under the impression that Hattori was in the sales business (and not a member of a gang)."
The then gangster and entertainer did not see one another again until a dinner meeting in 2006 in Tokyo. "Hattori brought along a lot of young guys possessing a certain look — the giveaway that he was in a gang," says the same writer. "After that, Kanpei said it was over between the two."
Since Hattori reportedly entered the underworld in 1982, the magazine finds it puzzling that Kanpei would not have detected Hattori's gang ties in the 1980s.
More interesting, however, is the information offered by a member from within the investigation: "Kanpei had paid Hattori four million yen."
The weekly further reports that a loan amount of 7.6 million yen existed, which then means a balance of 3.6 million yen remains.
Hattori is reportedly now employed as a taxi driver.
Competing tabloid Shukan Jitsuwa (June 28) cites an unnamed gangster who somewhat ironically claims that Kanpei is not being fair. "He uses the yakuza when necessary," says the gangster, "but then denies the relationship later." (A.T.)
Source: "Kanpei Hazama to Yamaguchi-gumi 'kesenakatta kankei'," Shukan Asahi Geino (June 21)
Note: Brief extracts from Japanese vernacular media in the public domain that appear here were translated and summarized under the principle of "fair use." Every effort has been made to ensure accuracy of the translations. However, we are not responsible for the veracity of their contents. The activities of individuals described herein should not be construed as "typical" behavior of Japanese people nor reflect the intention to portray the country in a negative manner. Our sole aim is to provide examples of various types of reading matter enjoyed by Japanese.