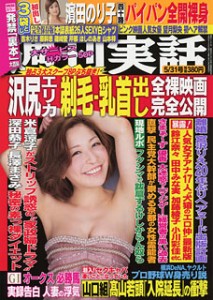 On May 1, Tokyo Metropolitan Police initiated a massive sweep of the sex clubs operating in the Nippori area. Weekly tabloid Shukan Jitsuwa (May 31) says that the crackdown was highly unexpected.
All told, officers from the peace preservation division of the Arakawa Police Station raided five clubs and made seven arrests, including Nao Hosono, the 34-year-old manager of massage parlor Aroma Garden, and 39-year-old Tetsuo Kasuga, the manager at Akashiya, which also offers massage services, according to the Sankei Shimbun (May 1).
A police beat reporter tells the Shukan Jitsuwa that the bust took everyone by surprise. "Unlike outside Uguisudani Station, Nippori (the next stop on the JR Yamanote Line) doesn't have a specialized district with hote heru joints," explains the reporter, referring to prostitution carried out in hotel rooms.
The Nippori area has seen a surge in adult-entertainment clubs in recent years. The opening in 2008 of the Toneri Liner, which terminates in Nippori, is often cited as the reason.
"In Nippori, foot traffic has increased," says a writer covering the fuzoku industry, which is the commercial sex trade. "As a result, illegal clubs started sprouting one by one. The neighborhoods in this area are not zoned for fuzoku services. So operators run their businesses out of rooms in multi-tenant buildings."
Services rendered are considered extreme. "A lot of Chinese massage joints offer coital sex priced at 15,000 yen for 60 minutes," says the same writer.
Enthusiasts in search of kinkiness also find the area appealing. "Special enema and catheter treatments are available," says one regular. "Such medically related services of course require 'qualifications,' for which there are plenty of girls in the Nippori area willing to learn by watching."
The aforementioned fuzoku writer says that there has also been an increase in married women willing to go all the way. "There are a lot of women secretly working part time who live in Adachi Ward," the scribe says. "The Nishi Nippori and Nippori areas are considered attractive since they do not have business centers and are therefore largely out of the public's view." (K.N.)
Source: "Tekihatsu Nippori fuzoku no noko purei," Shukan Jitsuwa (May 31)
Note: Brief extracts from Japanese vernacular media in the public domain that appear here were translated and summarized under the principle of "fair use." Every effort has been made to ensure accuracy of the translations. However, we are not responsible for the veracity of their contents. The activities of individuals described herein should not be construed as "typical" behavior of Japanese people nor reflect the intention to portray the country in a negative manner. Our sole aim is to provide examples of various types of reading matter enjoyed by Japanese.